Support the White Clay Struggle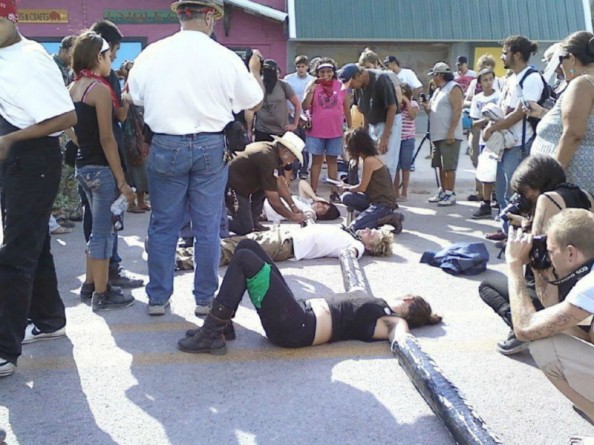 Hello friends, family, comrades and supporters we are running out of time on our Legal Support Fund, we have our first pre-trial hearing this coming Wednesday Sept. 26th, and we desperately need your help. Thank You all very much.
***FOR IMMEDIATE RELEASE***
"For over 100 years the women of the Oglala Lakota nation have been dealing with an attack on the mind body and spirit of their relatives. We have been silenced through chemical warfare waged by the corporations who are out to exploit and make a profit off of the suffering and misery of our people. The time has come to end this suffering by any means necessary."""Olowan Martinez, Oglala Lakota
We are fighting the Genocidal Hole of White KKKlay on many fronts, many are willing to risk it all, but we need material support and loyalty from the outside world. If you cannot stand with us on the frontlines will you be part of stream of people who will help us with supplies such as food, water, wood, propane etc. Thanks again everyone for your continued support of our struggle. Please come to the Women's Day for Peace March on August 31st 2013 12:00pm at Billy Mills Hall parking lot. Much Love.
What is GoFundMe?

Fundraising made easy >>
CONTACT
LINK
POSTER
REPORT
Your courage is a beacon in dark times. Your actions inspire us all.
Dan Tenenbaum
24 months ago
Veronica Gimenez
24 months ago
Thank you for everything! Stay strong and keep it up!
Thank you for your courage.