There can be no keener revelation of a society's soul than the way in which it treats its children.
Nelson Mandela
Be a part of this great opportunity to make a big difference in the lives of many people. Please consider donating! Every donation, no matter how small, can make a difference for these kids...
Hi! My name is Emily, and I am a twelve year old, home schooled girl from Woodbury, Minnesota. This last September, I traveled to Tanzania for two weeks to work with orphans at the Living Water Children's Center. I have been working to spread the word about LWCC and the work they do for children from tragic, broken backgrounds. I am already planning my return trip for May 2015.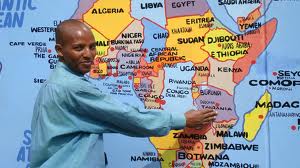 Living Water Children Centre was established in 2003 after Anza Kimaro met a six year old living on the streets and shared the story with his family. They researched the sad facts and learned that there are over 1 million orphans in Tanzania due to the HIV/AIDS and the malaria pandemic. The Kimaro's home was renovated to welcome children into their home, and family income was used to ensure that children had food, medical care and other necessities. The Kimaro family started with two children in March 2003 and is currently serving over 50.
The Center has dreams of building a playground for the children, but that is a big project. But not so big that we can't make it happen for them! Due to the logistics of a project this size, I will be collaborating with Sherry Fine, founder of the Living Water Children's Fund (see picture) and Tom Gill from the Global Play Alliance and East African Playgrounds. Every dollar I raise will go directly towards the building of the playground.
This is a big opportunity to help not only these kids but other children that unfortunately may someday need a place like this. The playground will show a great big thanks to the Kimaro family who have dedicated their lives to helping these kids. Help me in showing the Kimaros just how much what they are doing matters. Be part of turning the lives of these children into something worth smiling about. Pay forward the goodness and blessings in your life to those who need it most. Everyone has it in their power to help make this happen.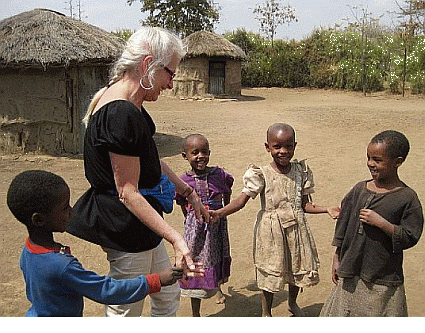 (picture) Sherry Fine, founder of the Living Water Children's Fund, visits the center. Since its inception in 2007, the fund has raised more than $100,000 and the number of the children served has more than doubled.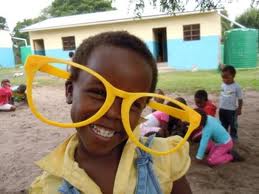 Thank you for looking at my site. With your help, I know we can do this!