Taylor: 6 y/o, adopted Cancer fighter!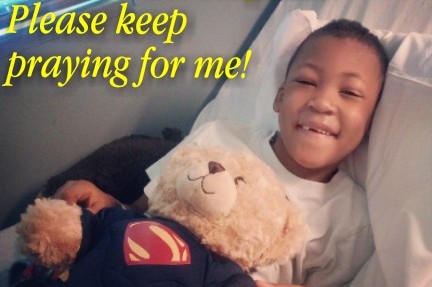 Raised: $10,885.00
Goal: $100,000.00
Created by
Nicole L. Hammond
321 Friends
Contact
Embed
Created by Nicole L. Hammond on February 23, 2013
Team Hammond is a foster and adoptive family from Las Vegas, Nevada. We have adopted four small special needs children out of foster care over the past 4 years. We also currently foster one baby for a grand total of 5 little ones, ages 6 and under. Our family was featured on our local CBS affiliate during one of our adoptions. News link www.tinyurl.com/teamhammond1

One of our super hero sons, Taylor, has been diagnosed with a rare form of leukemia. He is the bravest boy we know. He is currently hospitalized and receiving a mix of intensive inpatient and outpatient chemotherapy. We are grateful that he is under the care of one of the top Pediatric Hematologists/Oncologists in the nation.

We have no doubt that he will beat this. He is a tough boy, but as sweet and genuine as only a child can be. He is in good spirits and loves all the well wishes he has received. He hates the pokes and pricks, but loves the popsicles and pudding. He enjoys watching SpongeBob, Wipeout & The Cosby Show. He is in Kindergarten and just received a card from his classmates that he looks at every day.

Our friends and family have shown us so much support. We have set up this page to allow all of those who wish to help us during this journey. Every dollar, prayer, well wish, and good thought has not and will not go unnoticed. Every donation is appreciated, no matter how big or small. All donations go to helping offset all related costs of Taylor's care. We love and appreciate all of you. If you have watched our journey, you know there is a greater good at work in this family. This situation will not stop us. It will make us more determined and solidified to continue the work we have started in our children.

We thank you and Taylor thanks you for your time and generosity. Please feel free to contact us at anytime. Follow us on twitter at @Team_Hammond for our latest updates.
Recent Donations (118)
$10,885 raised by 118 people in 14 months.
$50.00
Anonymous
15 mins ago
$20.00
Anonymous
12 days ago (Monthly Donation)
$20.00
Natalie Scarlett
18 days ago
I love this little baby boy. And I am praying God continues to heal him. I wish there was an po box where I can send him gifts. Get well sweet baby boy
$20.00
Anonymous
1 month ago (Monthly Donation)
$20.00
David
2 months ago
Keep fighting wee man
$20.00
Anonymous
2 months ago (Monthly Donation)
$20.00
Anonymous
3 months ago (Monthly Donation)
$20.00
Anonymous
4 months ago (Monthly Donation)
$30.00
David Talsky
4 months ago
for the big kid and the big game tomorrow.
$10.00
Stephanie Taylor
4 months ago
Happy Thanksgiving Taylor
1-10 of 118 donations
Next