THE SMITH FAMILY RECENTLY LOST OUR BATTLE IN THE COURT OF COMMON PLEAS AGAINST THE HOUSING AGENCY (PHA).

I WAS UNABLE TO OBTAIN A PAID LAWYER AND NONE WOULD REPRESENT US PRO BONO SO I REPRESENTED MY FAMILY PRO SE ATTORNEY.

IT WAS A LONG SHOT HOWEVER PHA's ACTIONS HAD TO BE CHALLENGED

TAKING IT TO A HIGHER COURT IS A FURTURE OPTION, HOWEVER ALL WE DESIRE AT THIS POINT IS TO LIVE MORE COMFORTABLY AS WE ARE STILL WITHOUT SOME OF THE NECESSARY RESOURCES TO RUN OUR CURRENT HOME SMOOTHLY.

ANY CONTRIBUTION IS GREATLY APPRECIATED AND IMMENSELY ENCOURAGING.

THANKS SO MUCH & GOD BLESS YOU!
Greetings,
I would first like to thank you (all) for your concern regarding the Smith family's plight for both aid and justice.
The article below explains the grave social injustice of which my family was victimized and exploited; gentrification has trampled my family under foot.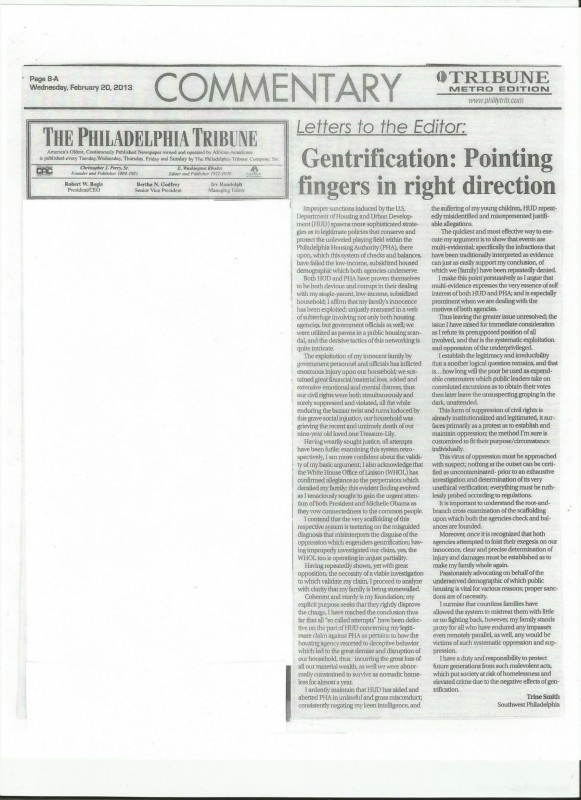 Your support is vital, the aftermath of this injustice has been a great struggle, this crisis befell our single parent low-income home as we were still sore grieving the untimely death of a very young member of our family unit. Treasure-Lily the youngest daughter of our family had succumb to seizure while asleep at the tender age of nine.
The aftermath has in fact been a long and exhausting battle which has led us here seeking to obtain the donations of gracious individuals as yourself with hopes to rebuild our lives after having been abnormally constrained to survive as nomadic homeless while also incurring the gross loss of all our precious possessions and material wealth, we also maintain our plight for justice and require your support to obtain necessary legal representation.
YES!... the Smith family is apt to file legal suit against the public housing agency for the malevolent actions by those who forced my family into the throes of the most anguishing time of our lives, the housing agency's hierarchy later proved their role of deviancy which cost my family bitterly.
Sincerely,
Trine Smith & Children
PS- The picture above depicts my living children only, in fact this is our very first memorial dinner after Treasure-Lily's passing; we celebrated her birth and legacy. She is sadly missed.