Surrogacy fund for Rachelle and Chris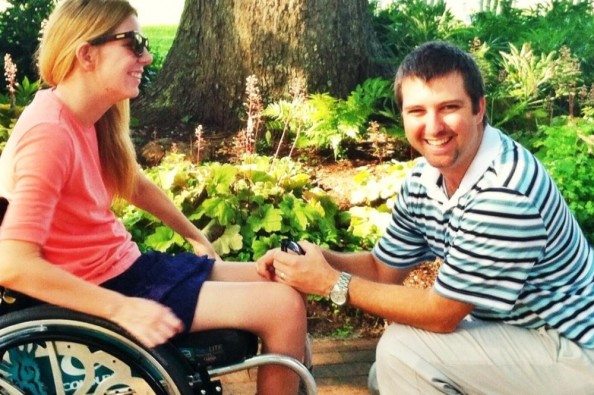 We are on track now to do the transfer in Cali on august 1st! This is getting real!
Rachelle's surrogacy blog
In May of 2010 Rachelle was playfully pushed into a pool at her bachelorette party causing a c6 spinal cord injury just weeks before her wedding. She was paralyzed and told she would never walk again. The wedding was put on hold during the first year of recovery, but the happy couple finally wed in a countryside ceremony in July of 2011. They are madly in love with one another but something is missing. They desperately want to start a family. It is not Rachelle's paralysis that hinders her ability to have a child but she is on vital medications that would make it extremely dangerous to carry her own child. Surrogacy is the best option for Rachelle and Chris but the costs are extremely high.  Though Rachelle and Chris would be able to financially support a child, they are a young couple who can't put down 10s of thousands of dollars. Help them complete their loving home.
What is GoFundMe?

Fundraising made easy >>
CONTACT
LINK
POSTER
REPORT
Patrick Russo
4 days ago (Monthly Donation)
Farah Perelmuter
11 days ago
Your friend the Surrogate is a friend indeed.
Natasha Khoury
15 days ago
Rachelle, I have been following your story for a few years now and am continuously amazed and touched by your positivity and ability to keep moving forward, even in the most difficult times. I admire your strength and courage, and know it will all work out for you. Don't worry for a moment. Continue to stay positive, and everything will fall into place. All the best to you!
Joe & Terry Fishleigh
15 days ago
Rachelle, we just read your story this morning, tears and smiles I'll admit :). You are an amazing young woman and will be an unbelievably great mom! Thanks for sharing your journey with us. Sending love and a few dollars from Asheville, NC.
Evangeline McKay
16 days ago
Love and prayers
Gregory Burke
16 days ago