Surrogacy fund for Rachelle and Chris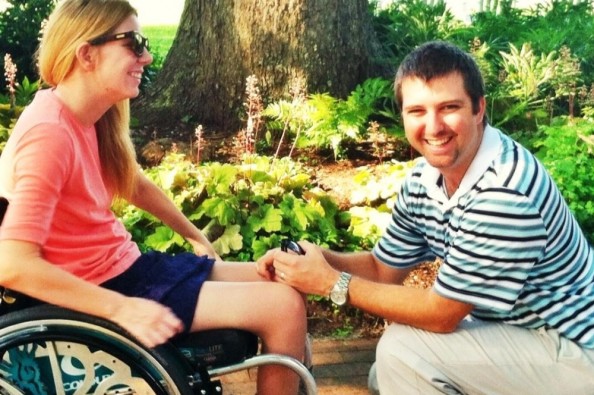 We are on track now to do the transfer in Cali on august 1st! This is getting real!
Rachelle's surrogacy blog
In May of 2010 Rachelle was playfully pushed into a pool at her bachelorette party causing a c6 spinal cord injury just weeks before her wedding. She was paralyzed and told she would never walk again. The wedding was put on hold during the first year of recovery, but the happy couple finally wed in a countryside ceremony in July of 2011. They are madly in love with one another but something is missing. They desperately want to start a family. It is not Rachelle's paralysis that hinders her ability to have a child but she is on vital medications that would make it extremely dangerous to carry her own child. Surrogacy is the best option for Rachelle and Chris but the costs are extremely high.  Though Rachelle and Chris would be able to financially support a child, they are a young couple who can't put down 10s of thousands of dollars. Help them complete their loving home.
What is GoFundMe?

Fundraising made easy >>
CONTACT
LINK
POSTER
REPORT
Patrick Russo
7 days ago (Monthly Donation)
Lindsay Turck
12 days ago
keep smiling
Louisa Ann Thomas
1 month ago
Congrats Chris and Rachelle. So happy for you. I have followed your story from the first day of your accident. Please have your friends promote this story more. This way you and your family can get all the financial help you need. I will send more if I can I am rooting for you. Keep me posted.....
Thomas Tuttle
1 month ago
Patrick Russo
1 month ago (Monthly Donation)
Jessica Giblin
1 month ago
Hi Rachelle, your story really touched me. my boyfriend broke his neck in a motorcycle accident 6 years ago. Luckily he has regained most movement, but i think about it every day. I wish you the very, very best! thank you for being so awesome. i just ordered your book and can't wait to read it.
An English Mum who has a surrogate baby
1 month ago
I have a teenage daughter due to a friend who watched me cry and struggle thru treatments to get pregnant. I have never fallen pregnant and never will She offered not only to carry a child for us, but to donate her own egg. A baster assisted pregnancy eventually led to my beautiful teen and my life was forever changed We went thru a lot of trauma, first ever that the County had dealt with at our courts, our hospital, our Dr's etc. We faced prejudice and gossip, lies and rumours, we had a consultant telling her as she was taken to theatre that she was making a big mistake, midwive making us go thru a bizarre handing over ceremony and I was treated like a baby snatcher. People are scared of differences as I'm sure you know! All the best, I know this is your biological child but really, it's no different where the bun is baked xx