End of February through March and into April, Nicholas had complained of headaches, ear aches, sinus problems, threw up every time he ate his eyes hurt and just seemed like everything was going wrong. He would randomly fall his balance got so bad he refused to even try to ride a bike. He even randomly fell down steps. His pediatrician kept brushing me off saying it was growing pains. Then when we got him in it was double ear infection, sinus infection, strep throat and even possibly needed tubes in his ears.

April 13, 2013 he turned 8 years old. That night we were in the E.R his vomiting wasn't any better, his headaches were more intense and he almost seemed to have a mini seizure. The E.R doctor said to take him home give him more Motrin for the headache and finish his antibiotics for the sinus infection and follow up with his pediatrician in a couple days. I looked at my son finally asleep in the fetal position on a gurney coat over his eyes hand on his ear looked at the ER doc and said NO! This isn't a sinus infection it's not growing pains, something's wrong. An 8 year old boy doesn't go from playing trucks in the sand riding his bike around the driveway for hours and wanting to help take cars apart, to sleeping almost 18 hours a day, unable to concentrate, throwing up every time he eats crazy migraines and being super sweet to snippy and nasty. Not to mention sinus infection wouldn't cause his left eye to go lazy!! I told him if he discharged us I'd be right back.

So, he ordered a CT scan. Seemed like it took forever for them to come back. I was pulled into a room and told there was a sizeable mass on the left side of my son's brain. He was being admitted.

We spent April 14th getting tests, nausea meds, and popsicles and watching movies. That night I crawled into his bed and held him through a headache turned seizure, then he slept.

April 15th surgery. Time would reveal his left side didn't work. With therapy, he got minimal use of his left hip and knee. He can't move his ankle or toes. He can lift his left arm but that's about it, nothing from elbow down. He was left handed before surgery. He is learning to write with his right very well. Vision in his left eye is seriously diminished and will turn to use his right. Things have been hard for him but he hardly complains. He so wants to go out and play and get dirty like he used to and doesn't really understand why he cannot.

Nicks diagnosis is Glioblastoma Multiforme stage 4, Stage 4 Brain Cancer. He is at Toledo Children's Hospital Floor 5 Oncology every week for either blood work or Chemo Therapy. He started out by having to undergo 33 rounds of radiation. He is on steroids to control swelling and fluid buildup as he does not want a drain put in his head he has become very self-conscience as the steroid and not being able to run around has caused significant weight gain. He requires a wheel chair as he can become fatigued or joint pain. He has a standard buy off the shelf wheel chair which is causing him to get a curve in his spine and a fitted one is required. We live in a very old home which is in need of repairs and updates. We need a wheel chair ramp on the house for him and somehow obtain a wheelchair friendly vehicle. On top of this, we have bills adding up daily.

We understand many people are on hard times but, understand,anything helps and is so very, deeply appreciated!! We also use PayPal through: toledosweetie69 @ yahoo.com. We have not set up a bank account where people can donate yet. My son spends a lot of time left out of things as not much is available for one handed children. We strive to enrich his life as much as possible. For anyone that would like to send cards or anything we do have an address we are using for mail. 4140 South avenue Toledo Ohio 43615. Again anything can mean everything! , - See more at:  Fighting this takes so much out of him. Sadly less then 5% of any money donated to Cancer research goes to Childhood Cancer research. When I say he is my hero and where I draw strength i'm 100% serious.

For those that have issues with fees assocaited with go fund me he has a page on you caring page. 
http://www.youcaring.com/other/8-year-old-cancer-warrior/133636#sthash.dhoxpt5f.dpuf

THANK YOU!!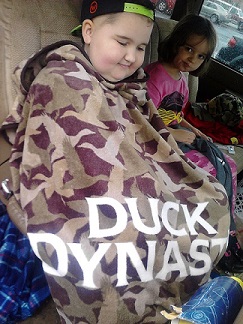 This kid loves Duck Dynasty, Fast n Loud, WWE, Bad Fish racing and a few other things. His life use to be outdoors, playing in the dirt, helping in the shop loved big machines and just being a boy. Now that is greatly hindered. Even riding his quad bike is hard because of the weakness in his left leg and inability to use his left arm.


we understand our number wont build the house my son needs but were afraid the full number will scare away people from helping.


11-21-13
Today we had our 3 month MRI. He got Zofran ahead of time but when they added the contrast it still made him throw up. I don't understand why with Zofran he still got sick. Poor baby!! Got some new pictures I have to transfer onto here and I can share.


Happy New Year Everyone!!
So far things have been pretty good. We have rough patches when its Temodar time. We still do not have use of the left arm and pain spikes in the left leg and foot at times. His next MRI should be in January if my thinking is correct. Crossed fingers prayers and the whole nine yards!!
Here is a cute picture of some Christmas items he received. Very good looking man if I do say so myself!!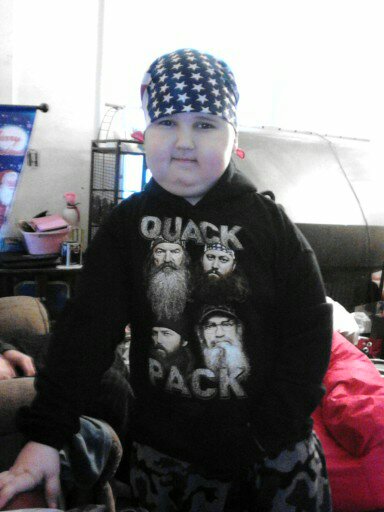 Happy Saint Patricks Day!!
We had to spend most of our day at the hospital today. Arrived at 9am. Got accessed and blood drawn then waited. Waiting always seems to take forever!! Blood work came back and all his counts were low so rather then chemo he got a transfusion for plateletts. We'll be back next week and see then.
We recived a letter from the people that run the clinical hes on that reports have come in of liver failure so they are giving people the option to pull them off Temodar (Temazolomide) or leave them on. If I take him off then his treatments are done and I think hes off the clinical. We reviewed his blood work over the last 8 months and his liver counts havn't changed so we are going to remain on the last 4 cycles of the temodar unless they change then I will not do them again.