We also have paypal toledosweetie69 @ yahoo.com or for mailing we have an address to use. PO Box wasn't working out.
My son was diagnosed with a stage 4 Brain Tumor on
his 8th birthday. Weeks before was spent in and out of his doctors office being mis diagnosed with any infection possible. His headaches got worse and happened more frequently. Finally after a trip to the ER and putting my foot down something was wrong a scan found the tumor. My heart broke. He deserves everything you want for a child when they are born. I will give it to him. However, I need good people who can help us out. We have 4 children total and my husbands trying to run a shop that isn't an over night million dollar company or I'd be out searching for other cancer families in need of help. Because of surgery to remove the tumor my son lost use of his left side. after 2 weeks he could control his face again and some eye control. His vision is impared. He cannot willingly move his ankle, toes and limited use of his knee. We make frequent trips to therapy with prayers they will work again but thats in Gods hands. Our home is very old and falling apart around us. If we are unable to repair the issues and add an addition onto our home built in 1887 then we will need a new one. Nothing fancy we just want to build or purchase a home that fits our sons needs and to give him a fighting chance. Please we understand some can only give $5 and thats okay. We do plan to pay it forward. He makes very frequent trips for chemo and weekly lab work. He has already gone threw 33 radiations. He has bad days and good days and I cherish each one. I hope you can find it in your heart to give or pass this on to those that can.
- This poor boy at his age has ad to go threw 33 radiation treatments which have caused his hair to fall out except a few spots. It has finally began to grow back on one side. Since July he has received a chemotherapy treatment via IV every other week. Due to so many pokes and the toll the treatments have taken on his body he had to have a port placed on his chest. He received 3 blown veins and 10 pokes one day in attempts to access a vein which lead to the decision of getting a port placed. He didn't want it so bad he allowed himself to be a pin cushion for 2 hours. When i broke down and told him we were doing the port he cried until he fell asleep and wouldn't talk to me for an hour. That day broke my heart again. When we talked and he finally understood he accepted it. I got to be with him until they put him under. From April 2013 to July 2013 this kid had already endured and gone threw more then I have my entire life. We will have treatment until late 2014 with bi weekly chemo and MRI's to monitor the tumor is not regrowing. I pray every day this kid gets to grow old and get the life he deserves. We are getting OT/PT not as much as he did before school and hoping he can regain use of his left arm and hand. I know thats his biggest wish. 5 days out of every 28 day cycle he has to take a Temodar pill which is a chemo pill that makes him tired and just feel crappy and not wanna eat. Fighting this takes so much out of him. Sadly less then 5% of any money donated to Cancer research goes to Childhood Cancer research. When I say he is my hero and where I draw strength i'm 100% serious.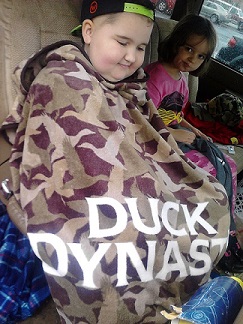 This kid loves Duck Dynasty, Fast n Loud, WWE, Bad Fish racing and a few other things. His life use to be outdoors, playing in the dirt, helping in the shop loved big machines and just being a boy. Now that is greatly hindered. Even riding his quad bike is hard because of the weakness in his left leg and inability to use his left arm.
we understand our number wont build the house my son needs but were afraid the full number will scare away people from helping.
11-21-13
Today we had our 3 month MRI. He got Zofran ahead of time but when they added the contrast it still made him throw up. I don't understand why with Zofran he still got sick. Poor baby!! Got some new pictures I have to transfer onto here and I can share.
Happy New Year Everyone!!
So far things have been pretty good. We have rough patches when its Temodar time. We still do not have use of the left arm and pain spikes in the left leg and foot at times. His next MRI should be in January if my thinking is correct. Crossed fingers prayers and the whole nine yards!!
Here is a cute picture of some Christmas items he received. Very good looking man if I do say so myself!!