Thank you to my old cheer buddy Krinda Hie for your awesome donation today! Krinda's donation brought us to $1365 collected today on gofundme.com...added with the raffle sales so far we are at $1715 collected for this cause! So awesome!
Please don't forget to help make this little girls face light up when her service dog Riley can come home...donate today at gofundme.com/kailey-riley or in person at Lima Superior FCU!
THANKS AGAIN FOR HELPING ME REACH MY GOAL FOR KAILEY! 😊
Help Me To Help Kailey Bring Riley Home!!!

I have a very dear friend of mine name Kailey Marie Wright that I met about 5 years ago after taking a job in Delphos, OH.  Kailey has a remarkable story about life, struggles and how miracles really do come true!  Kailey was born in 1995 with Hypo Plastic Left Heart Syndrome (HLHS) Critical Aorta Stenosis. She was later diagnosed with Cerebral Palsy and Epilepsy as well. HLHS is a rare congenital heart defect where the left ventricle is severely underdeveloped at birth. Without life-prolonging interventions, HLHS is fatal, but with interventions an infant may survive.

I have started these fund raising efforts to help her and her family raise enough money to bring home a service dog named "Riley".  




Any help that you are able to give, is greatly appreciated and will provide Kailey with the opportunities for more independence, self-reliance and a raised self-esteem!  Kailey has a remarkable story about life, struggles and how miracles really do come true...and here is her story:

At one day old...

Prior to being hospital discharged, Kailey's parents were told that their seemingly healthy 6lb 4oz baby girl had a slight heart murmur and further tests were needed.  

Later that evening an entire team of specialists, doctors and nurses came into the room accompanied by a Chaplin.  What they were about to tell them, would change the family's life forever. The hospital representatives explained the options that were available; (1) A heart transplant (which Kailey would not survive the lengthy waiting list) (2) Compassionate care (taking her home and letting her pass away - which was not an option, or (3) A 3 stage surgery (this is the option the family chose).




Day 2...

Kailey's parents arrived across the street from Duke Medical Center around midnight, still shocked by the news they had received.  At 5:00AM they recieved the call they hoped they would not receive.  Their beautiful, seemingly healthy baby girl was crashing and they were needed immediately at the hospital!  They were taken to a small room and told there was nothing more they could do.  The hospital explained that no HLHS child had ever survived with blood gasses as high as she had and there was no longer hope to saving her and wanted to have her baptized.  The staff of specialists explained Kailey's brain had hemorrhaged and that her entire left brain had been affected, even her brain stem.  They continued to tell her parents that it would not be long before the other side was affected and that she would become brain dead.  Laura, Kailey's mother, recalled this painful moment with me.  She explained "they took us over to her bedside where I was able to touch my little angel.  She was laying there, on her back,  so helpless and so volnerable (its a vision that will stay with me forever).  I remember her being so cold and her body wasn't pink but a dusky dark color.  The doctors explained to me that this coloration was due to a lack of circulation to her extremities and had begun having organ failure, and this was further proof she was slipping away.  The docotors told us there was a 0% chance of survival.  We never asked God to save her, only to take away the pain she may be having".

Day 3...

After relentless attempts to have them pull the plug there was a miracle!  As the family sat next to her incubator, they noticed a small stream of what appeared to be urine coming down the catheter!  And that was all the family needed to see to have hope that Kailey would pull through!  The doctors still stressed to the family "this changes nothing" and urged the family to make the decision to pull the plug.  The family refused.  The next decision the family was faced with was to go against the doctor's advice and proceed with the 3 stage surgery to save their little girl.  Surgery #1 (Norwood Procedure) and then onto surgery #2 (Bidirectional Glenn) which was completed at 4 months old.  Both surgeries were a success and at 8 months old, the FAMILY GOT TO BRING THEIR BABY HOME!  At the age of 3 Kailey had surgery #3 (the Fontan).  After several trips to the ER, crashes and seizures (including several Grand Mal Seizures), I am happy to report that Kailey is a heathy 19 year old girl...and one of my dearest friends!
Other Diagnosis...

Kailey has also been diagnosed with Cerebral Palsy with functions levels of a 3 - 6 year old as well as having Epilepsy.

2014 Update...

Kailey was referred to the Cleveland Clinic Neurology by her Neurologist at Dayton's Children's Hospital to do to the amount of seizure activity she has throughout each day.  She was admitted in October 2014 for a week of EEG monitoring on the Epilepsy unit at the Cleveland Clinic.  In November 2014 she was admitted once again for a surgery where they drilled 12 bur holes into her left side skull to place in depth units to monitor her seizure activity more precisely and to stimulate the electrodes to see what part of the brain (visual, speech, movement, etc.) would be affected.  After the results were received, the family then had to make a very painful and difficult decision on whether to go through with the brain surgery, where the left half of the brain (which as you remember from earlier had been highly affected by hemorrhaging early in life) would be removed.  The decision was made to proceed with the surgery.  On January 10, 2014 Kailey had the surgery and has now been seizure free for more than 2 months!  Kailey did have some setbacks from the surgery, mostly on her right side, but the Doctor feels she will gain back what she lost over time.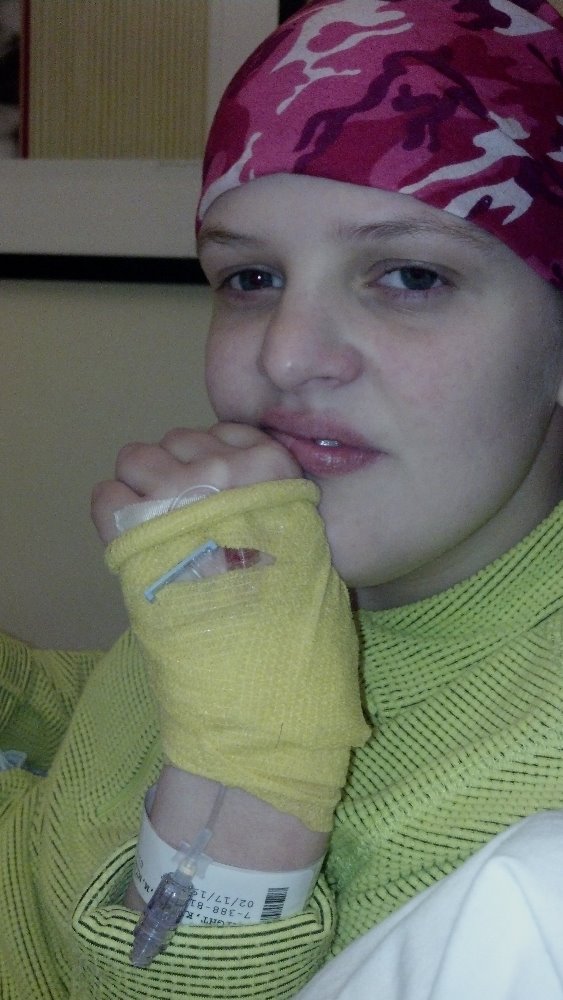 "Riley" and Wagmor Service Dogs...

Kailey is working on receiving a service dog "Riley" through Wagmore Service Dogs ( www.WagmorServiceDogs.com).  She craves to have something she can call her own and a service dog will do just that!  Riley will be her companion and will always be at her side.  It is our hope that her service dog Riley will stay on her good vision side as she lost some of her field of vision in the right eye during her brain surgery.  Riley will give Kailey much more self-confidence and the hope is that as Kailey and Riley bond, thus the dependence on her mother will lessen.  Kailey spends all the free time she can going to visit Riley, often reading to him, playing fetch or just simply petting him!  Riley is all she talks about lately and is a much needed addition to the family!

Any help that you can give to help me to help Kailey bring Riley home, is greatly appreciated!  Funds I raise will go directly to helping Kailey and Riley!  Any funds we raise over our goal will be donated to Wagmore Service Dogs to assist another family in need!