Justice for Aliza Sherman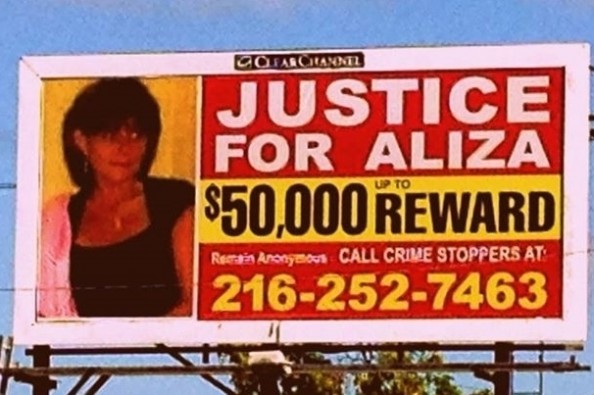 Thanks everyone for your continuous love and support during this difficult year. We are so grateful! We will never give up the fight for Justice For Aliza Sherman.
Aliza Sherman was my mother, my best friend and my soul-mate. Her life was tragically cut short after she was brutally murdered at approximately 5:30 P.M. on March 24, 2013 in downtown Cleveland, Ohio. No suspects have been named and we are desperately seeking justice for this heinous crime.

I am raising money to go towards the Crime Stoppers reward being offered, funding for events to raise awareness and to empower women, as well as to help take care of my two youngest brothers who have since moved in with me after this horrific event shattered our lives. We'll probably search the rest of our lives for understanding of how another human being could commit such a cruel and barbaric act against such a kind and gentle soul, and will probably never be able to comprehend this type of evil. What we can find is an answer to who committed this horrific crime and stole our beautiful mother from us. While the main goal of the Justice For Aliza campaign is to bring the monster(s) responsible to justice, we also hope to honor our beautiful mother's life by providing women and girls with the necessary tools to protect themselves.

My two youngest brothers and I were all embarking upon new and hopeful chapters in our lives before this tragedy. My youngest brother was looking forward to starting college in the Fall of 2013. Our middle brother was working towards finishing his first year of medical school. They both have found inner strength I didn't know existed and have been able to work towards their goals despite the immense pain and suffering we all now have in common. I am in the final year of my graduate nursing program and hope to finish and obtain my Nurse Practitioner certification, but with a longer than planned time frame.

I know our mother wouldn't rest until she knew we were taken care of and trying to lead some semblance of a normal life. I don't know if that is attainable at this point, but we will all attempt to do so, if not for anything else than to honor what our mother worked so hard to provide us with. If there is one thing I am certain of, it is that our mother's killer(s) MUST be found and held accountable. JUSTICE FOR ALIZA SHERMAN shall be served.
What is GoFundMe?

Fundraising made easy >>
CONTACT
LINK
POSTER
REPORT
Edward Czinn
5 months ago
Tali toltzis
5 months ago
Chef Dave's Catering
9 months ago
Hannah Rosenblum
10 months ago
Dear Jennifer: We remember your lovely mother and are so impressed by her lovely children and are happy to try to help.