I need to hire specialist in Egypt to help locate my son and return him to the United States of America before its too late.
The United States Government (State Department) will not locate my son and have him returned to the USA.
This could happen to your child; if it does, you will be all alone.
Blake is listed on INTERPOL'S website as a missing person, arrangements have been made with the Egyptians to return Blake to the USA as soon as Blake is located.
My Ex-Wife has fled the with our son. They took off March-22-2012 and has evaded law enforcement and ignored the warrants for their arrest.
Jennifer also fled with her new husband Brandon Houff.
I have Full Physical and Legal Custody of Blake, he has been taken from me to a place that is very dangerous.
Watching the news and seeing the violence In Egypt, you must know the danger that exists there for Blake.
Blake, Jennifer and Brandon are all Citizens born in the and they have no ties to Egypt.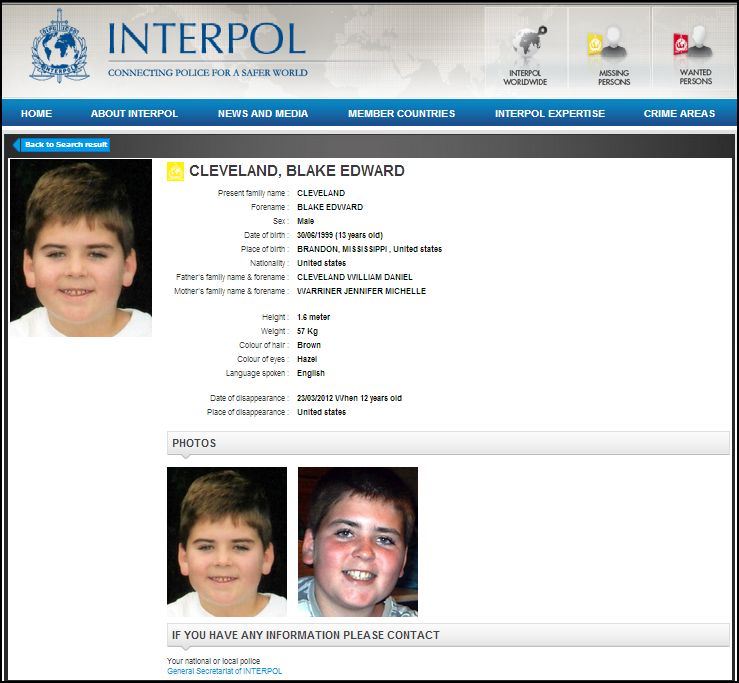 Posters and supporting court documents can be downloaded here:
http://sites.google.com/site/blakeclevelandmissing12inms/
If you would like to be kept up to speed, Send me a Friend Request on FaceBook or Follow me on Twitter.
Follow @DannyCleveland1