Greg E. Duffek II's Memorial Fundraiser has been set up in order to raise money for the hospital bills from Greg's week long stay at Chippenham Medical Center in the I.C.U. His hospitalization was due to brain trauma that resulted from lack of oxygen due to a heart attack. He unfortunately did not recover from this and he took flight with the Angels on May 11th, 2013. The money raised will also be used to help pay for his funeral arrangements, and to help pay for things for his daughter Skylene or "Sky", as most of us know her to be called.
Greg was a very generous soul, he liked to give and help out whenever he could. He held a fundraiser for a young burn victim when he lived in Roanoke Rapids, N.C., held a "Tattooed for Food" Thanksgiving food drive for the homeless and less fortunate, "Toys for Tats," which was a Christmas toy drive to assist with the city's Sgt. Santa program, most recently he did a fundraiser to raise money for Rusty Mack, who suffered brain damage as a result of being beaten and passed away...those are just SOME of the things that he contributed to...the list goes on and there are countless others that could tell you stories of his generousity and kind heartedness.
(This was in the newspaper when he did the benefit for the burn victim)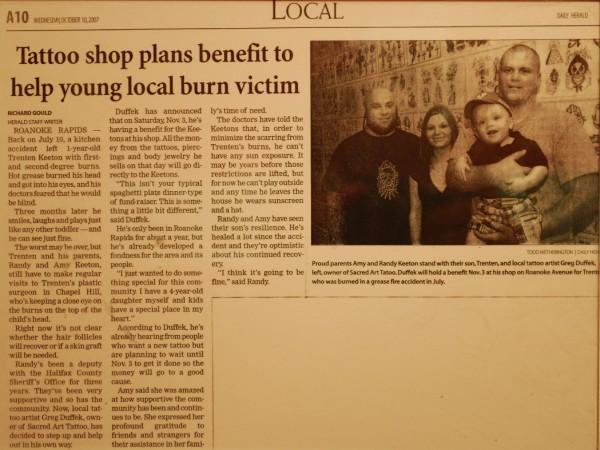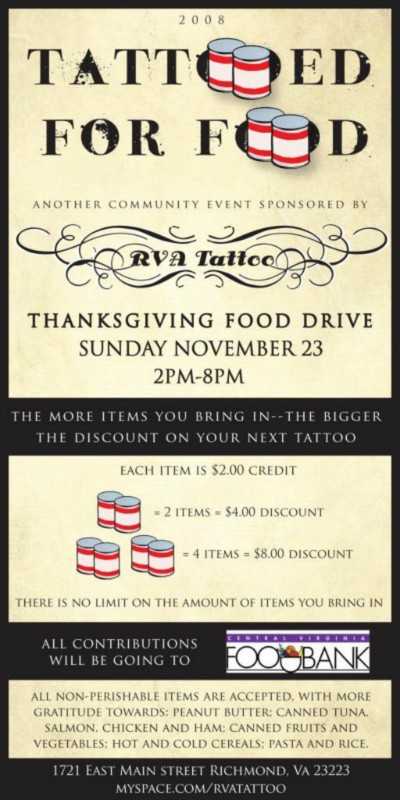 (The above two ads were ads that he had for just two of the fundraisers that he did)
Greg did everything as BIG as he could! Whether it be building a name for himself, fundraising, loving his daughter, or stretching his earlobes! I don't think there is a person out there that would disagree and say that he didn't brag about his daughter! He was ALWAYS extremely proud of her and everything she did. He supported her decision to go after whatever it was her heart desired.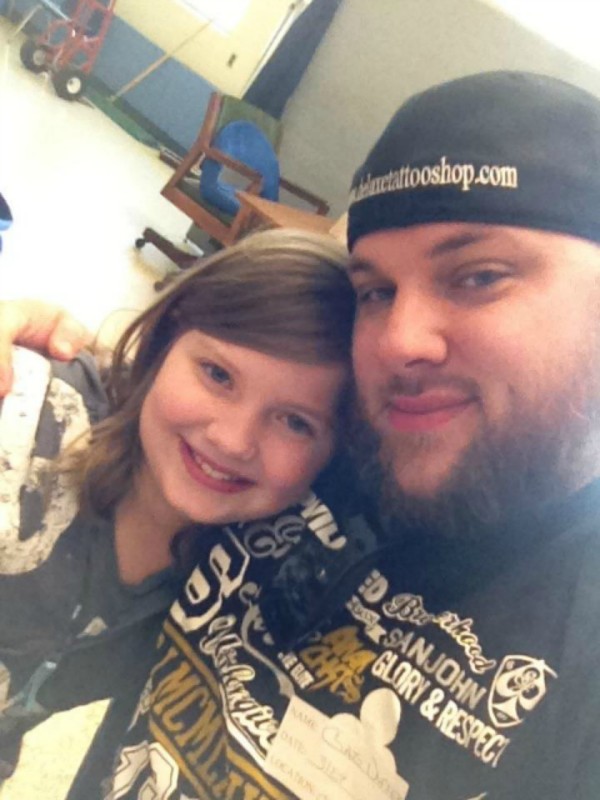 Now that Greg has passed on, him and his family need our help! He has done so much for so many, and it is time for the
WORLD
to know how great of a person he was and help
HIM
and
HIS FAMILY
out! A goal has been set of $1,000,000.00, but a week in I.C.U. alone without insurance would probably exceed that itself, funerals are very costly, and sadly no amount of money could bring him back to this Earth to spend more days with his daughter who will eventually go to college and get married one day. We hope to spread the word about "Good Deeds Greg Duffek" and far exceed that goal. Help us, help him!
CONTRIBUTE & SHARE
! Thank you to everyone who donates in advance!