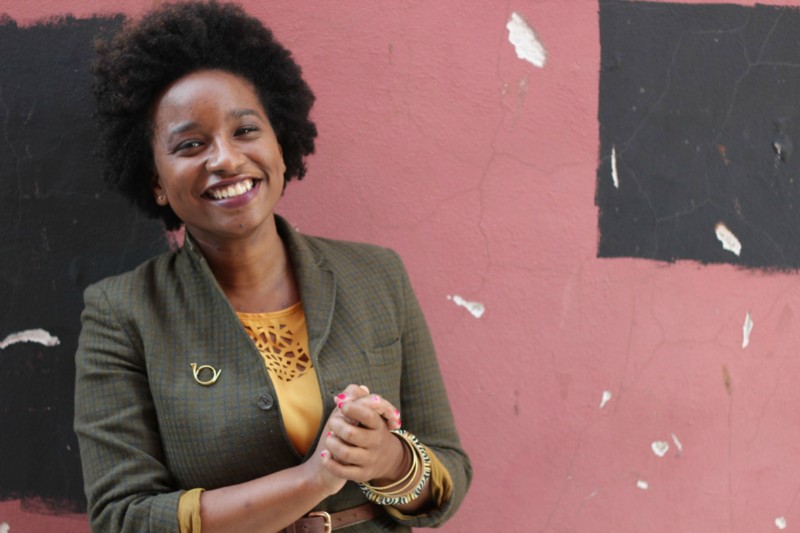 Hello and welcome to my page! My name is Erica Avery, and as you can see, I am going to Film School.
I would like to take this time to thank you for stopping by. I am excited about getting to know you and would like to tell you a little bit about myself and why I started this campaign…
The starting point of my passion for performance art and digital entertainment began in my childhood.
The first eight years of my life, my three siblings and I were home schooled by my mother. From what I can remember, those years were filled with art and expression.
We wrote plays and novellas and created songs and dances.
As a result of those influences, I fell more in love with dancing, writing, acting and singing.
My passion for digital entertainment solidified while watching old movies with my mother and father.
I was drawn to films that explored such themes as the dark history of industrialization, the struggle for human rights, and governmental accountability. It was with them that I learned the power of the moving picture.
Today, I am using that power to educate people in my city about pertinent social justice issues such as the War on Drugs and Mass Incarceration.
I have acquired, through the crucible of life, an unremitting mind—steadfast and firmly planted in my sense of purpose. I know my passion because I have sought it out with fervency.
I am passionate about speaking the truth and doing no harm.
I now know that I must educate others concerning the aforementioned issues through the creation and discussion of my film projects.
I've decided to go to film school because I believe in telling stories that will promote sustainable change.
Having been passionate about social justice for most of my young adult life, I want to tell the stories of those who are "forgotten" by society.
Tribeca Flashpoint Media Arts Academy
is the school to help me do this.
Located in Downtown Chicago, Tribeca offers an outstanding 18 month program in Film and Broadcast with a focus in Film Production.
It's been featured in...
I've been told many times why it's impossible for someone like me to go to a school like this.
The tuition for the 18 month Film + Broadcast program at Tribeca is $25,600 per year, plus $4000 for computer and software. That's a grand total of
$54,600
to attend one of the most cutting edge film programs in the US.
But I won't let that stop me.
Not the fact that many scholarships aren't available, or that I may incur debt, or even that most available scholarships don't care about programs like this. Instead, here's what I've done…
Through GoFundMe, I've created the Erica Goes to Film School campaign to help me raise the money for my tuition, software, and living expenses.
Partnered with the estimated Gross Aid Eligibility from FAFSA, and your own generous support, I can pay for my degree in Film and Broadcast at Tribeca Flashpoint Media Arts Academy!
My estimated aid will be $15,895 per year, which includes a Tribeca scholarship, a Pell grant and a federal student loan.
That amount subtracted from my yearly tuition leaves a balance of $11,405 per year.
Because of the accelerated and intense nature of the program, advisers strongly discourage students from picking up an additional part time job to help pay for school.
Therefore, I need your help to raise the remaining tuition balance of
$22,810 for my studies at Tribeca Flashpoint Media Arts Academy.
It is truly unfair that interest rates on student loans have doubled in 2013, and that corporate entities on Wall Street have lower interest rates on their federal loans than the future leaders of this country!
This campaign is not only for me, but for everyone who dreams of the opportunity to be educated, but simply just can't afford it.
This campaign is an example of how to do it. We have a responsibility to each other as human beings to be creative and innovative so that we can leave a healthy cultural legacy for our children and those to come! That's worth investing in.
So here's how you can donate: 1000 people give $22.81Or 100 people give $228.10Or 50 people give $456.20
Now, I'm sure you may be a bit skeptical, I would be too if I were you.
With all the scams going on out there, it's hard to put your trust in anyone, especially if you haven't met them.
But honestly, I want you to know that this campaign could not come from a more sincere place
. I want you to trust that your generosity will only be put towards this cause; and to prove it, I've decided to make Erica Goes to Film School an All-or-Nothing campaign.
Whatever monies you decide to donate WON'T be charged to your card or taken out of your account UNLESS I reach my goal of $22,810.
So if you decide to make a donation, and I DON'T make my goal, nothing is lost. You won't be charged. Period.
If I DO make my goal, all donation transactions will be given a receipt from GoFundMe.com.
In addition, the tuition receipt from Tribeca Flashpoint Media Arts Academy will be posted on the Erica Goes to Film School Campaign page as soon as it is received.
I know it's a bit risky, and I'll be honest--it's kind of scary betting the future of my education on "the kindness of strangers".
But that's how much I believe in my dream. Sometimes you have to leap, and learn how to fly as you go.
I'm asking that you leap with me, so we can fly together.Donate now to Erica Goes to Film School.
Thank you for your support!Erica Diane AveryP.S.
Get updated throughout the GoFundMe Campaign and follow my journey through film school.
Subscribe to my e-newsletter, "The Soapbox".
TESTIMONIALS
"My husband, John Philbin, taught and worked with Peter Hawley in the 2008-9 school year, I think Erica would be an excellent fit for Tribeca's program. It doesn't surprise me that Erica would have a selfless goal in mind for her studies. Ever since I met her, she has been trying to make the world a better place through her volunteer activities, the kind of person she strives to be, and the career she is building for herself. I think Tribeca would do well to accept Erica into the film program."
- Gail Philbin, Former Campaign Manager, Jonathan Goldman for State Representative, Grand Rapids, MI.
"I worked with Erica Avery on the Fight for 15 organizing drive for fast food and retail workers in Chicago's Magnificent Mile and Loop. Erica was someone who could and would do whatever was necessary to further the success of a very new and very exciting project. She is smart, creative and delightful to work with. I have very high hopes for her success in her film studies."
- Madeline Talbott, Retired Executive Director of Action Now, Chicago, IL
"Erica sees the injustices and suffering of our world, and she feels compelled to do something. She is driven by a holy discontent with the brokenness of our world. This is not only one of her best traits, but also the area of her greatest potential. I am looking forward to see how her compassion will continue to inspire and uplift others as she continues to grow as a leader and a film student."
- Dave Clark, Pastor, Living Hope Neighborhood Church, Richmond, CA
"I consider Erica one of my very best friends, although for most of our friendship there have been hundreds of miles between us. I am enriched by her timeless insight and compassion. She has the rare gift of looking at things with a critical eye and the vision necessary to see its fullest potential, as well as the creativity it would take to back it up."
- Seana Parker, Student, Ashville NC
"As my daughter, there is no one more trustworthy and committed to her dreams than Erica. I also appreciate Erica's honesty and integrity as a person who desires to have a real impact on her world and those around her in a positive way. Erica will not disappoint anyone who does decide to support her efforts to attend college."
- Carleton Avery, Loving father, Chicago, IL.
FAQSWHAT HAVE YOU DONE SO FAR?
-Applied to Tribeca Flashpoint Media Arts Academy.
-Had my student interview.

-Completed my FAFSA application.
-Got accepted into Tribeca Flashpoint Media Arts Academy with a $1500 scholarship.
-Launched
Erica Goes to Film School
GoFundMe tuition campaign.

IS TRIBECA ACCREDITED?
YES. "Tribeca is accredited by the Accrediting Council for Independent Colleges and Schools to award associate's degrees. The Accrediting Council for Independent Colleges and Schools is listed as a nationally recognized accrediting agency by the United States Department of Education and
is recognized by the Council for Higher Education Accreditation." –Tribeca Flashpoint Media Arts Academy


ARE THE CREDITS TRANSFERABLE?
YES. "Starting this fall, course credits earned in TFA's two-year programs can be applied to a four-year degree at one of our partner colleges." –Tribeca Flashpoint Media Arts Academy


WHAT DOES TRIBECA'S FILM + BROADCAST PROGRAM INTELL?
"As a Film + Broadcast student at Tribeca Flashpoint Academy, you'll dive into production beginning your very first week of classes. With expert guidance from our faculty of industry professionals, you'll gain a foundation in all areas of film and broadcast production before selecting a focus in screenwriting, directing, producing, post-production, cinematography, or broadcasting… You'll be collaborating in small teams on projects like short films, documentaries, commercials, and music videos for real-world clients….you'll walk away with more than just a degree. You'll have a professional demo real of high-end film and broadcast projects…a resume filled with real-world credits… [and] the hands-on experience and professional qualities that all employers demand." –Tribeca Flashpoint Media Arts Academy


HOW MUCH FINANCIAL AID WILL YOU BE RECEIVING?
My estimated aid will be $15,895 per year, which includes a Pell grant and a federal student loan. That amount subtracted from her yearly tuition leaves a balance of $11,405 per year, giving her a grand total of $22,810 for the total tuition for the 18 month Film + Broadcast program.


CAN YOUR PARENTS HELP YOU PAY FOR SCHOOL?
NO. My Parents help me out the very best they can, however I'm 24yrs old, and I don't live with them. With the economy the way it is, they don't have $22,810 lying around, and neither do I.


WHY HAVE YOU DECIDED TO GO TO SCHOOL NOW?
I used this time to really evaluate where I wanted to invest my time, resources, and other people's resources. I felt it was impractical to go to school without a vision. I didn't want to end up having a midlife crisis and tearing down my whole life, because I didn't know why I built it that way in the first place. I'm avoiding all that now by taking the time to set my vision first.


HOW DOES FILM SCHOOL TIE INTO YOUR PLANS FOR THE FUTURE?
After Film School, I plan on continuing my studies in film and business management either here in Chicago or at the University of Michigan. From there I will start my own production company.


WHAT IS YOUR PLAN B?
My plan B is, if this doesn't work, try something else that will help me get to film school.


HOW DO I KNOW THIS CAMPAIGN IS LEGITIMATE?
This is an All-or-Nothing Campaign. Whatever monies you decide to donate WON'T be charged to your card or taken out of your account UNLESS I reach my goal of $22,810. If you decide to make a donation, and I DON'T make my goal, you won't be charged. Period. In addition, I will be posting my tuition receipt to this GoFundMe page for all to see once my tuition is paid for. You can also check out my personal website that features this campaign as well as videos about Tribeca Flashpoint Media Arts Academy.
Click here to visit my personal website.