DiBella-Family Rebuild After Fire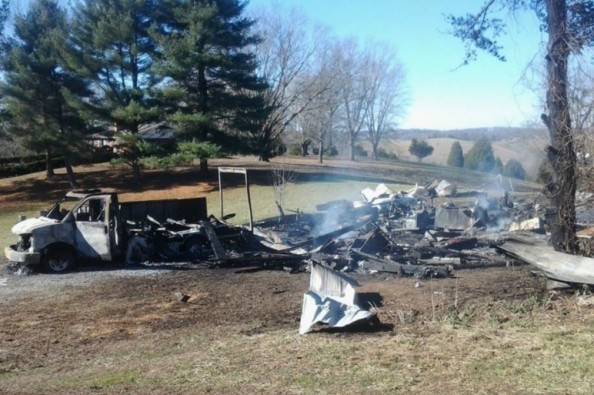 Happy New Year to all of you and THANK YOU for your support! All of your donations has helped us get a new vehicle and get us back up and running. The insurance company is taking their time processing our claim. We could not get started again without your help. Sincere thanks to you all! Here's to a better 2014!!!!
At 2:00 am on December 18th we were awoken to a fire that took our family business and our only work truck. By the grace of god our house was spared and we were able to get our five children, son-in-law, four granddaughters and pets out to safety. We are a strong, large family that will survive this however it will take time. Being so close to Christmas and with no way of earning a living we are in need of help. Any small donation or assistance in helping us rebuild would be truly appreciated. Insurance company is investigating and funds to rebuild shop will be delayed. Thank you all for your help. We are trying to purchase materials now to rebuild the shop and stock is with the minimum amount of tools to get our family business operational again.


Charlie & Karen DiBella
What is GoFundMe?

Fundraising made easy >>
CONTACT
LINK
POSTER
REPORT
Iris Cheung
13 months ago
Allie Vermilye
14 months ago
Best wishes to you and your family, Charlie. I miss seeing you around Christmas time! So thankful that everyone is fine.. Allie @ Home Depot
Christine Anatone & Zachary Rounds
14 months ago
We were so sorry to hear about the fire, but are glad that you're all safe. We're keeping you in our prayers and hope this helps you get you business up and running again. Merry Christmas and God bless you.
Steve and Deana Angel
14 months ago
Merry Christmas! We miss and love you all and hope this helps in whatever way you need.
Linda Johnson
14 months ago
We are so incredibly sad for your loss. You will be in our thoughts and prayers. With love, Aunt Marie, Karen and Richie and Linda
Jennifer Lynch
14 months ago
Lea Ann Savage
14 months ago
I found out from your brother via FB about the fire and your loss. It isn't much, but I am happy to contribute. I will share on my FB. Merry Christmas to you. I can tell that you are a strong family, and will recover!