Be the first to like this update
ONE YEAR LATER.
For Caroline and I, April 15, marks the end to a year that has changed us forever. We were injured, we were scarred, but we survived. Today we will remember the past and hope for the future.
Throughout the past year, we have been humbled by your support. Friends, family, and strangers throughout the nation have hosted fund raisers, run marathons, gone door to door, cut hair, sold ice cream, put out donation jars, and made t-shirts. Supporters have called, emailed, sent letters, gifts, and posted messages. Every gesture of kindness or donation, no matter what form, or how large or small, has touched us. We thank you.
In December, we welcomed our happy and healthy daughter Marlowe, who Caroline had been carrying on that Marathon Monday. She is the gift we had been hoping for, but hadn't yet expected. She is our little miracle.
On April 21st our little family will be back at the finish line reclaiming what has always been our favorite day. While our emotions will be mixed, the excitement and pride for those who are running will fill our hearts. Friends and family members Tamara Rosenthal, Patrick Marshall, Mark Jewell and Gregg DiGennaro are but a few who are set to finish their first Boston marathon! and we will be there to celebrate.
As we move forward with our lives, we take with us a new found appreciation for the lives we still have, but also for the area in which we live. Those of us native to New England have always known how special this region is. But after this event, I think it's safe to say that the world now knows. A city's strength, resolve, and compassion for its own has never been more openly expressed. We should all be proud.
Your kindness has changed our lives,
Christian and Caroline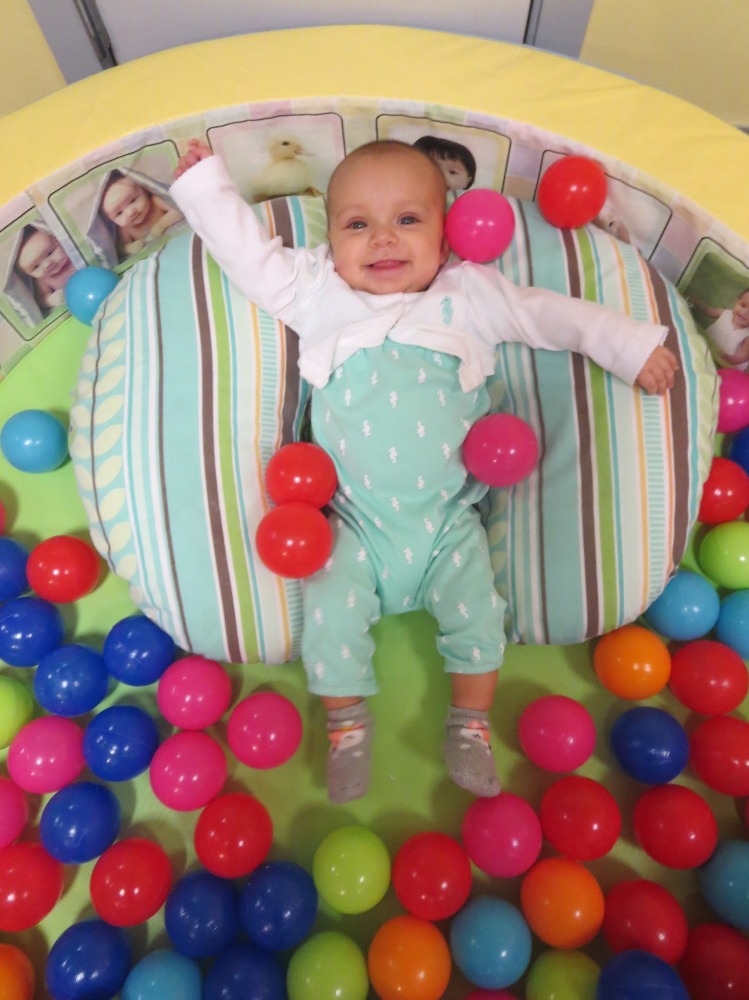 Our friends Christian Williams and Caroline Reinsch were at the finish line of the Boston Marathon on April 15. The first bomb exploded just feet from where they were standing. Their legs were shredded by the blasts and Christian's right hand was also partially "degloved", meaning he has no skin left on his last three fingers. They are both still in the hospital and have undergone multiple surgeries on their legs. There will be more in the coming days and possibly weeks. Both Christian and Caroline ran the Boston Marathon last year, raising thousands of dollars for Dana Farber Cancer Institute through their successful campaign, "Make My Feet Go."

Those of you who know them know that they're very athletic, outgoing and love to travel and explore the world. This setback will not impede their hopes and dreams. They will bounce back. It's what they do.

The medical expenses will add up as the months go by. Let's raise as much as we can to help offset what their insurance won't cover.

Christian and Caroline are avid photographers and budding filmmakers. Here is a beautiful video they shot entitled, "A Walk In The Woods - Middleborough, MA 2013" shot on March 31, 2013 featuring Christian, Caroline and thier dogs.

https://vimeo.com/63135958



Pictures of Christian moments after the blast as published by the New York Post and other newspapers;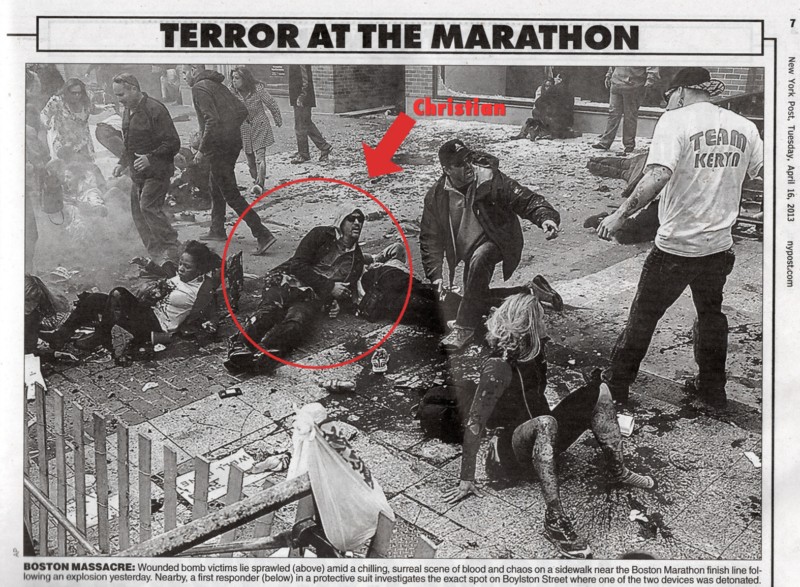 Here are pictures of Caroline in the Boston Globe moments after the blast;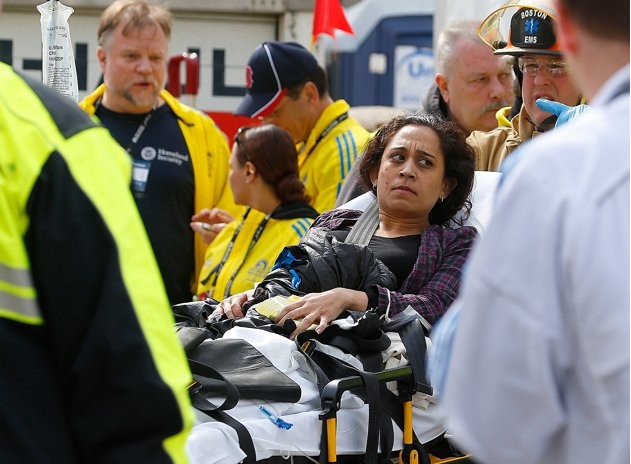 Here's a blogspot where well-wishers can leave messages for Christian and Caroline ( http://smallarmystrong.tumblr.com/)

Here are a few great pictures of the two of them in better times;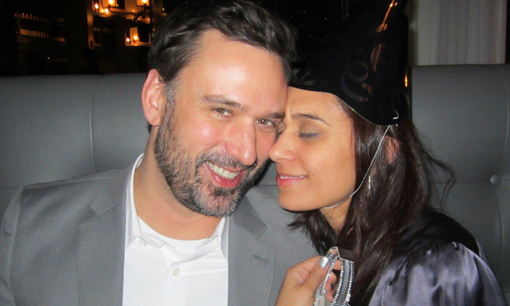 UPDATE #1:
After speaking with Christian about his ordeal, he remembers quite vividly that a Boston Marathon runner who is also a surgeon, came to his rescue. He remembers the man was able to get people to help him apply tourniquet to each of his legs, he hollered out "if we can get this guy out on the next transport he has a chance, otherwise he's going to die".

That's when he realized how serious his injuries were. He remembers the man taking two belts and putting a tourniquet on each leg so he wouldn't bleed to death. Christian said he can still remember the smell after the blast, "It smelled like gunpowder...like fireworks." He feels fortunate, even lucky, about his situation. "I'm just happy I get to keep my legs," he said. "And even if my hand is banged up after these bandages come off, it's okay, I still have my hand, too."

Christian is indeed lucky that his legs will not have to be amputated. But the state of his condition is still not known by doctors. The severity of the injuries are still too early to talk about long term implications. His spirits are pretty amazing considering what he has been through.

Caroline originally ran from the scene as her adrenaline and 'fight or flight' instincts kicked in. But as she looked back, she saw that Christian was not with her. She quickly returned to the bomb scene where she found her boyfriend on the ground, unable to get up. This is when she realized she too, had been hit, and collapsed. She has undergone many leg surgeries since Monday and has more to go. In spite of all that she has been through, she is doing well and is in good spirits. As her friend Kara pointed out, she's not as concerned about herself as she is for Christian. She keeps asking how Christian is doing.


Update #2
Today was a crazy day as the local police, state police and FBI continue to hunt down the bombing suspects. And while the gunfights were occurring on the streets of Watertown, Christian and Caroline were being prepped for more surgeries. Christian went in at 10:30am and didn't finish until 3:30. He let me know that he is now out of surgery but extremely groggy. No shit, Sherlock! So he's sleeping it off now. I think he gets a day off tomorrow from surgery and then back in on Sunday.

Caroline went into surgery 30 minutes after Christian had entered the ER. Her friend, Kara, said that it went really well and that Caroline is doing very good and her spirits are high. (I don't know how long her surgery lasted.) Turns out there was another friend that went to the Marathon's finish line with them and she too, was injured by the blast. When the hospital discovered they were friends, they juggled rooms around so they are now neighbors. How cool is that? This has really helped in their emotional well-being. In true Caroline fashion, instead of asking how she's doing, she keeps asking how Christian is doing.

As of this update, in just over 24 hours, friends, family and complete strangers have come to the aid of Christian and Caroline to raise a remarkable amount... It's a great testament to the care that we have for each other as human beings. There is hope.


Update#3
Both Christian and Caroline are doing well today. Their surgeries went well and they are both in good spirits. Surgery number 4 is coming but his sister says Christian looks the best yet! His family also visited Caroline and brought her homemade chicken soup from their mother. She is also doing well and grateful for all the love and support from all who have reached out.

It's a great story of support and love in the face of an American tragedy. And with all the help from their friends, family and strangers, a total of over $40,000 has been raised in just 3 days.

We all thank you from the bottom of our hearts.

Update #4
This is a note from Caroline following here final surgery on Friday the 19th.

My last and final surgery to close the wound on my quardracept took place on Friday. The doctors were right. The skin graft harvest site (on my upper thigh) hurts more than anything else. All I can say is thank goodness for pain killers! My plastic surgeon's orders are a week of hospital bed rest with very limited movement so that the graft can settle into its new home. Everyone knows that I'm not one to remain still for more than 10 minutes. How in the world am I going to get through a whole week of bed rest with my knee locked straight in a brace? How in the world am I going to go a week without seeing Christian? The answer proved itself out over the week...the constant stream of visits and messages from friends, colleagues, and even strangers has been lifting my spirits. Words cannot explain just how blessed I feel about the amazing outpouring of support, both emotionally and financially. This natural drug is far better than any pain killer! I wish I could bottle it up and share it with all the other victims, many of which have far worse injuries and a longer road to recovery than me.


Update #5
This is a note that Christian wrote on his Facebook wall to all his friends and those who have supported him through all this. I will add this note here as it is so inspiring.

"To all my friends, family, caregivers, coworkers, and supporters. Thank you so very much. I am overwhelmed, humbled and honored by your support. Truly.

A note such as this feels laughably insufficient. But, at the moment its the best I can do before reaching out to everyone individually. Friday, I finished my 3rd round of surgeries. I have severe and life changing injuries to both legs and my hand. Many surgeries and possible outcomes still lay ahead. But with your incredible outpouring of support I am defiantly optimistic.

Through this ordeal, not a moment of anger or self pity has crept into my heart. Because through it all, I know that I rank high on the list of fortunate and blessed.

I could have lost my legs, my hand, my life, or even worse, the life of someone I love. But I did not. Few men are given a chance in life to see how lucky they are.

That moment has come and I can see. I am one of the luckiest men alive.

I want to give a special thanks to my agency Small Army. Trapped in an office with creativity in their minds, love in their hearts, and philanthropy in their souls (and very infrequent condition updates by myself) they managed to create a groundswell of good that will last me a lifetime. Please be sure to check out their efforts."



Update #6
It's now Wednesday, March 24, and Christian is entering the OR for his 5th surgery as we speak. But before he left for today's operation, he wrote this:

"Monday morning. I had my fourth surgery. They made great progress and my left leg was finally closed up. They also managed to get my right leg closer to being closed. (See attached photo...of how it looks after 4 surgeries working on it) Post surgery was really painful for me. The meds weren't working and I couldn't couldn't hide from the pain. That pain carried over into the morning.



They were trying various combinations but it wasn't working. At about 8am Tuesday I tried some physically therapy. The pain was impossible to get past. It was my lowest point to date. They switched the meds one last time and they got it right. At 11am the Red Sox came by and I was back to a level of pain that I could manage (photo enclosed) At 2, physical therapy came back and I stood and walked for the very first time. Granted this is with the help a special walker. But it was certainly progress. Today they hope to close up my right leg."

And here Christian is with his miraculous team at Beth Israel. Plus some Red Sox players to mix things up a bit. All the king's horses and all the king's men are putting Christian Williams back together again.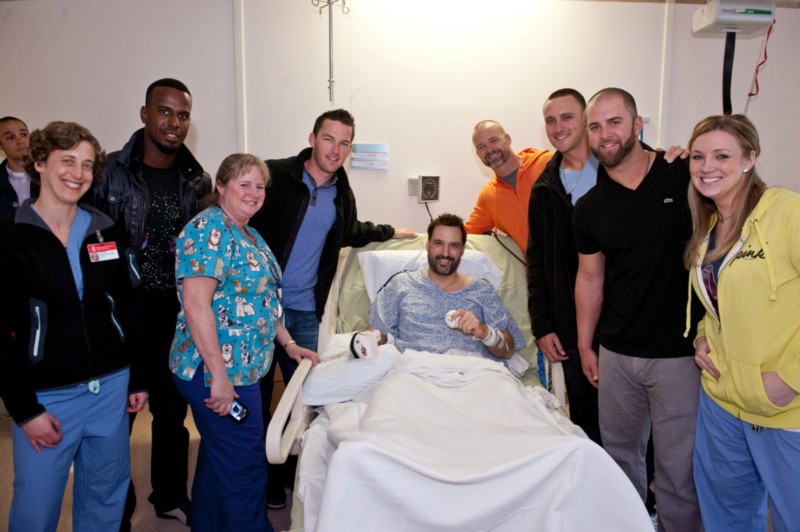 Here's another unlikely guest that came to visit Christian today just before his surgery. That of the furry variety. Dogs have a way of tugging the stress out of our tired bodies and shaking it like a rag doll until it's gone. They're magical in that way.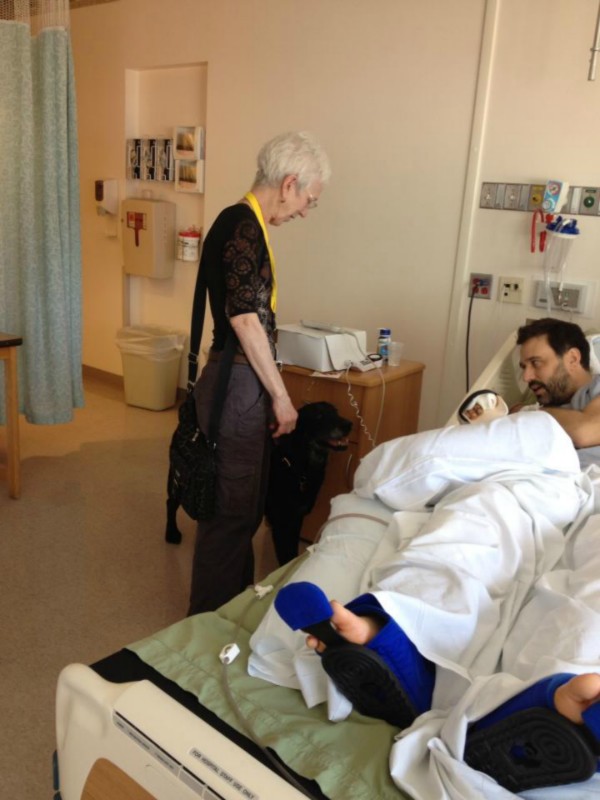 Update #7
An update from Caroline on Friday the 26th.


As Friday, my discharge day, was approaching, I found myself dealing with very mixed feelings. Yes, I was excited to be going home, to sleep in my own bed, and to see my dogs. No, I wasn't ready to say goodbye to the safety and comfort of the Faulkner Hospital. The nurses, assistants, doctors and physical therapists instantly became my family. I was so grateful for the quality of care, the dedication and compassion that I experienced from each and every person helping me there. I didn't expect to grow very, very attached to my favorites. I didn't expect my dear friend Michelle and I to be in adjacent rooms. Although we barely got to see each other because of bed rests, we got to share every procedure, pain, shot, fear, bowel movement (really) and visitor with each other. I wasn't ready for us to be separated. Mostly, I wasn't ready to go home to my life so deeply rooted in the Back Bay... my condo located just 4 blocks from the finish line and my work only 2 blocks.

It was time, my chariots (thank you Annie and Janell) had arrived and were loaded with my bags. It's amazing how much stuff you accumulate in 10 days. I said good bye to the Faulkner and the amazing people inside (while fighting back tears) and shifted my thoughts to the life ahead of me and my overwhelming excitement to see Christian!




Update #8
An update from Christian on Saturday the 27th.

Friday evening I had my 6th surgery. During which they were able to close the last of my holes with a skin graft. So, aside from minor operations to remove a pin in my finger and a tube in my leg, I am done with surgeries!

I've got a few days of prescribed bed rest to help give the skin graft a shot to take. Then its onto rehab and finding out if I'll ever walk or run without a brace (still an unknown). Speaking of which, prior to my surgery, I was able to use the walker and actually leave my room for the first time. They say I walked about 140'. Crossing that threshold and leaving my room was a special moment.

But the highlight of my day was when I got out of surgery and found Caroline waiting in my room. As you can imagine, it was an emotional moment 10 days in the making. We cried, laughed, kissed, whispered I love you, and held one another so tightly you'd never think we could be pulled apart. It was the moment I'd been waiting for ever since I woke from the bombing. And together again we soared.

Thank you all for your love and support. You can't imagine how much strength you provide.