Morgan Buffaloe....Brain Tumors SUCK!!!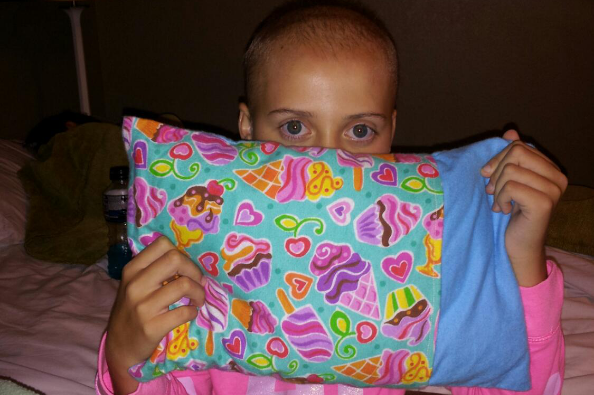 We leave for San Fran tomorrow and my nerves are completely shot! Even though I know everything will work out the way it should I still manage to psych myself out.... UGH! Lots of prayers and good thoughts please. Morgan will have an MRI, Optamology, Oncology and whatever else she needs whioe we're there. This is our first trip with just the two of us and that in itself is stressful. Scott usually does all the driving and keeping me calm, tomorrow it's all up to me....YIKES! LOL! Wish us luck! I'll keep everyone updated as we go along. #Ourteamisstrong #TeamMorgan #Middlebird #Fuzzyhairdontcare #WEGOTTHIS #Cancersucks
I never in a million years thought that we would need to start a fund me account for medical reasons for one of our children but today we are finding ourselves asking for donations for our daughter Morgan Buffaloe two days ago we went to the emergency room for a headache and ended up on an ambulance on our way to a Children's Hospital for a brain Tumor! You can imagine the days we have had and have ahead of us! Fortunately we have the most AMAZING 10 year old ever and she is STRONG and ready to FIGHT! Any help is appreciated and your PRAYERS are requested also! We will THANK each of you in advance now!
What is GoFundMe?

Fundraising made easy >>
CONTACT
LINK
POSTER
REPORT
I am praying for both of you.
Lydia and Judy
4 days ago
We love you guys so much. We can't wait to see you again.
Hi Morgan this is Patricia, I hope you get better and Hope to see you sometime this summer or soon.
God Bless you Morgan
Deborah Lee
8 days ago (Monthly Donation)
I am praying for you all everyday. I can't even imagine. Know that love and friendship are here for you always.
Anonymous
12 days ago (Monthly Donation)
heather almeraz
1 month ago
I found this on deb's instagram page I wish u to get well soon!!
Anonymous
1 month ago (Monthly Donation)