Justin Woods: Fighting for the Goal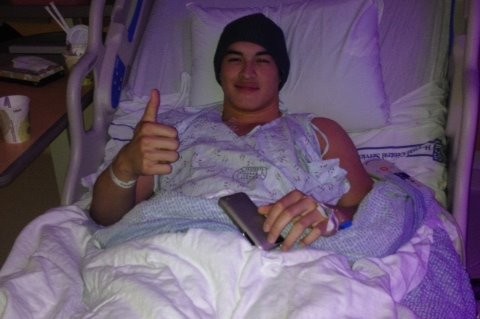 It has been such a blessing to witness the amount of love and support for the Woods family during this time. We have turned off the donations for the page, but please continue to send your messages of love and support, as Justin and his family read them daily. Again, on behalf of the Woods family, thank you.
On May 7, 2014, Justin Woods, Fairbanks Alaska's hometown hockey hero was diagnosed with Ewing Sarcoma. Ewing Sarcoma is a primiary bone cancer that affects mainly children and adolescents. Justin was diagnosed early before it spread to other parts of his body, and has sinced moved down to Seattle with his mother Marsha where he will begin chemo treatments.
 
Justin has been playing hockey for as long as he can remember. He is a member of the University of Alaska Fairbanks Men's Hockey Team and was such an influential defensive player as he just wrapped up his freshman year with the Nanooks. Justin is a healthy young man who will fight this and come back so much stronger mentally, physically, and emotionally. His family, friends, and teammates are ready to help him fight for the goal and bring him back home! 

Lets stand together and DO IT FOR JUSTIN. With the help from our communities and the complete healing from God, we know that this sweet young man will live a full and wonderful life. On behalf of the Woods family, thank you for everyone who is willing and able to make that possible.
What is GoFundMe?

Fundraising made easy >>
CONTACT
LINK
POSTER
REPORT
David samani
7 months ago (Monthly Donation)
David samani
8 months ago (Monthly Donation)
The Quinn Family
9 months ago
We know you will beat this and be back a stronger person both on and off the ice - thinking of you and your family at this time.
Mark & Camille Terhune
9 months ago
Wishing you healing and a full recovery! You are in our thoughts and prayers!
Craig, Jordan and Saige Wright
9 months ago
Martha Johnson
9 months ago
More thoughts and prayers from "old friends" of you mom. You'll be on a whole new batch of prayer chains around the world. Best of everything in your travels and treatments! Martha
Ron Rocheleau
9 months ago
Sending prayers for your battle a head. Good luck!
Penn State Hockey
9 months ago
Justin, Penn State Hockey is thinking of you and wishing you well.