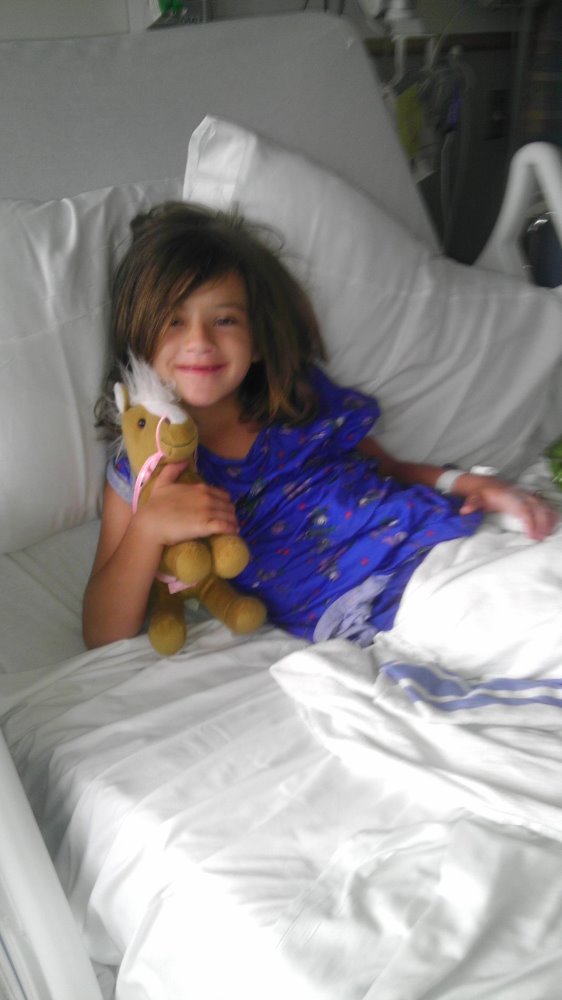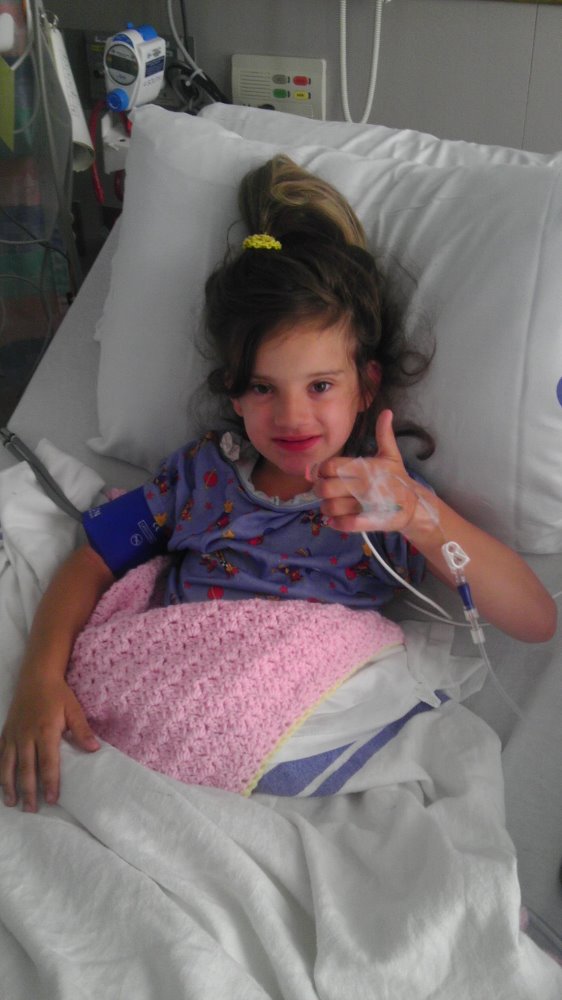 This fund is set up soley for our numerous trips to Philly and to help with Mackenzies upcoming surgery on July 18th, procedures beforehand and numerous doctor visits too.
(This history is in a nutshell. I could write a novel on everything she has gone through but I tried to hit the most crucial points so her story makes sense in the littlest amount of paragraphs)
On April 20, 2006 a very special little girl was born in Lehigh Valley Hospital. She was very sick as mom was too with flu like symptoms.  We had such a perfect, non complicated pregnancy so to our surprise she wasn't healthy :( She went directly to NICU at LVH. They immediately tested her potassium levels. All tests were coming back okay but by her physical anatomy we knew something wasn't right. After numerous testing they decided the best for her would be to transfer her to CHOP (Childrens Hosptial of Philadelphia). On April 22nd they transported her to CHOP by ambulance and we met her down there in their NICU. Every doctor under the sun seen her. After so many tests, including to test to make sure she was a female, we were told that they couldn't find a specific syndrome general surgery would like to step in later to do a reconstructive surgery. We knew she had charateristics of Spinia Bifida due to her back and closed hole but they couldn't classify it. We would watch her spine as it is crooked and has a closed hole at the bottom.  After two weeks of being in CHOP we were packing ready to go home when she spiked a fever. We found she had a UTI and it was in her bloodstream which is deadly in babies. They kept her for another month on IV medications. We learned quickly that she had severe urine reflux of her left kidney and mild reflux of her right. We finally left Catherizing her every two hours. She failed to thrive for months and cathing wasn't easy to do on a growing baby. At 12 months old she only weighed 11 pounds. She wasn't doing anything at her milestones. We then realized from an MRI that she had a tethered spinal cord which required Major back surgery immediately. Once the tethered spinal cord was released within two weeks she began walking. A few months later to make everyones lives a little more easier we had a colostomy bag and vesciocostmy put in place. That brings us to 8 years later today. Two years ago we went back to see genetics for the first time since she was a baby. As a baby they started her on seven different syndromes but couldn't diagnose her due to the lack of a characteriristc in every case. As soon as Dr. Zackai saw Mackenzie at the age of six she knew exactly what she had. After pictures of both of our eyes, hands, feet and a DNA sample to Dr. Jurgen in Germany she has found our syndrome. STAR syndrome. Autosominal dominant gene disorder with renal and anogenital malformations with syndactyl AKA STAR. We learned there are 10 females in the entire world with it and Mackenzie and I are the only two in the United States. It's a mother to daughter gene so our son Trey is clear. So today Mackenzie is doing wonderfully with the way she is but she's ready to be dry, out of diapers and is ready to be as normal as she possibly can. There's been a few surgeries over the past few years but nothing major, pretty minor actually.  This brings us to the big surgery coming up in July.
Here are the details: We received the phone call we have been waiting for. July 18th Mackenzie is set in for her surgery. It's extremely hard to get to very busy, major surgeons together in the OR. The surgery itself will take 12 hours without complications. Dr. Doolin (colostomy doctor) will take about 2-3 hours to do his part and Dr. Canning (urology) will take almost the full 12 hours to do his part. Dr. Doolin will be reversing Mackenzies colostomy and creating a MACE. The MACE in simple terms is a port on her belly in which she will hook herself up to a IV bag of saline solution and flush out her bowels which will exit through her bottom. This will be once to twice a week depending on her body. We won't know specifics until after the surgery. As for Dr. Canning his part is extremely difficult and probably the scariest of the two. He is closing off her bladder neck. This in itself is a really big deal. Once you close it off from below it's a permanent procedure. If they should every come up with something that would allow Mackenzie to go to the bathroom in the future she will not be able too. This is a decision Glenn and I made together. As of now and in the coming future there is nothing coming available. Also with Kenzies anatomy she will not be reconstructed from the bottom. There are too many cons versus pros to do so. Also, from her back surgery when she was a year old (they released a tethered spinal cord) and from the tethering it leaves her incapable of releasing or expelling her urine. Back to the surgery- Dr. Canning will also be reimplanting both ureters in hopes that it reduces the amount of reflux she has to both kidneys. She has a grade 5 reflux to the left kidney which is the most severe and that kidney is extensively scarred. The right side has some scarring but it doesn't reflux as much. They are doing a cystoscopy which is basically a camera to look around (that will be first) just to make revisit her inside anatomy. She has urogenital sinus cavity inside which urine pools and becomes stagnant so he's going to attempt to address that as well. The other potentially bad thing he will be doing is the augmentation of her bladder and intestine. By augmenting them she will be able to go a full three hours without having to catherize herself. If not she would have to do it every half an hour to hour. By augmenting we are putting her at a very high risk of bladder cancer. She will be screened as she gets older.

In a nutshell, Mackenzies bag will be gone. She will catherize her bellybutton every 3 hours to pee. She also needs to flush her bladder to make sure she is getting all the mucus out. As for pooping, she will flush her bowels through her bottom. This is her life plan. The recovery time is 10-12 days without complications in the hospital and minimum of six weeks recovery at home. She will most likely miss a week or two of school (pending all goes well). It's not going to be easy, but nothing every is. She is seeing two psychologist currently. A urological psychologist and a "all around" psychologist. They are amazing and they do wonders keeping her on track. Thanks for patiently waiting for this. I didn't want to post until I had all the details in stone. I will be updating the gofundme.com fundraiser. Thanks for staying with us through her journey. It means more to us to know there's someone willing to listen. Just to get it off our chest makes it easier to breathe.

The only thing I am waiting to hear is if they are going to admit her the day before, but I do doubt it unless Dr. Doolin wants bowel prep then it's a possibility. We are down to 8 trips to Philly until then the date.

We as a family don't like to ask for help, but I don't think there's anything in the world that can mentally prepare parents for a surgery like this. So many potentially bad things can happen or can go wrong during and even after the surgery. I'd like to thank you in advance for any donation to help us get through this difficult time. It will be nice to know that we can solely focus on our children and not have to worry about finances so much. Please keep her and our family in your thoughts and prayers. It will be needed.

Check out STAR Awareness Page on Facebook for further information and to follow her journey after the surgery.

Peace. Love. Happiness. Understanding.