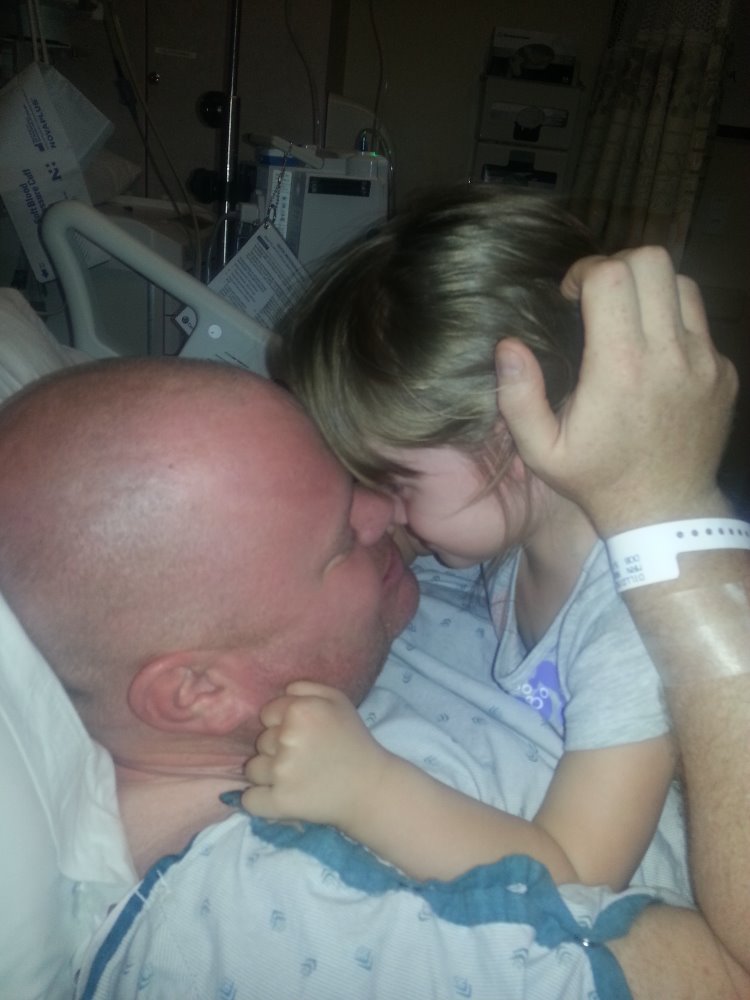 My name is Andrew. I am 36 years old, with a wife and two young daughters. Adysan is 6 and Abygail is 3. In 1998 I was diagnosed with a parathyroid tumor which was removed. For ten years after that, I went with no health issues. Sadly, seven years ago, just months after marrying my beautiful wife, I began having problems ranging from kidney stones to severe night sweats (soaking my side of the bed) to severe diarrhea to facial flushing to blood infections (I have been septic 3 times which almost ended my life).
Mayo Clinic, I.C.U. for 4 1/2 weeks - septic. 887 miles away from home.
Good Samaritan hospital / ICU Dayton, Ohio. Bad kidney infection (almost lost right kidney). They took out the left lymph node to see if i had Lymphoma - it was just swollen. Infectious disease doctor said she has never seen anyone sweat like me in her 20 years as a doctor. I was in for three weeks, out for two, then back for two.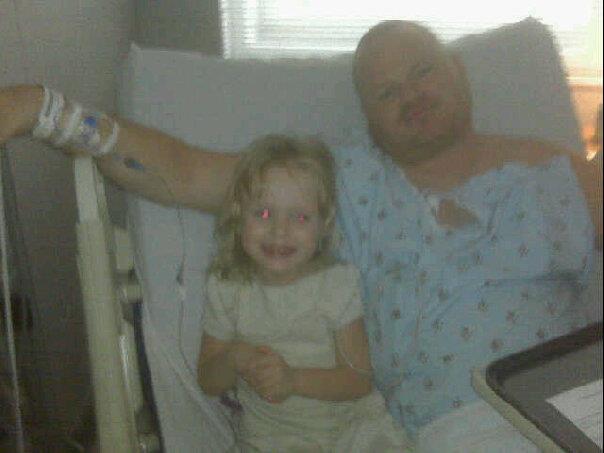 Over the years I have tried hard to be super DAD not super sick .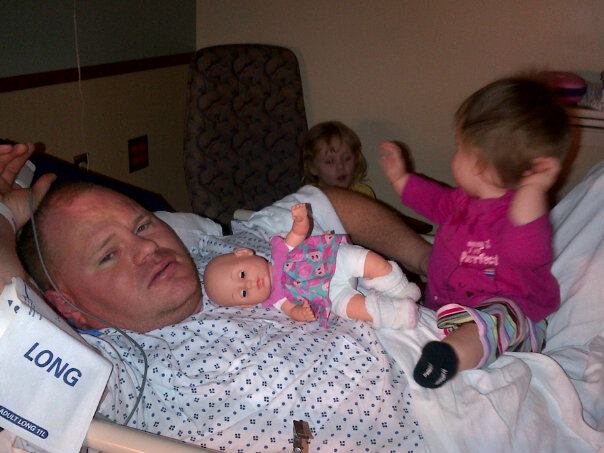 MY GIRLS ARE MY WORLD
When my symptoms first started I had numerous (over 50) visits to the emergency room for kidney problems and my G.I. issues. I spent 6 months admitted in local hospitals. With no diagnosis, I went to the Mayo Clinic in Jacksonville, FL in 2010. I was there for 11 months living in a hotel while getting treatment and testing. My final answer after all of that, after seeing many of their doctors and specialists, was that whatever I had was very rare and they just couldn't give a final diagnosis. They said that whatever I had needed to grow to be found. Over the last 6 & 1/2 years I have passed 86 kidney stones. I have had over 12 stents placed in my kidneys. They had to balloon the tube on my right kidney to expand it because it was scarred so badly due to the stones. I also had many urinary tract infections. Over the years, I have spent over 300 days in hospitals including intensive care unit treatment. My come to Jesus moment was when a Mayo Clinic doctor told me that he thought I may not make it through the night due to sepsis.
Please go to this link; it explains everything very well:
www.webmd.com/cancer/features/what-is-carcinoid-syndrome
or look up, New york times my rare tumors-deceptive and deadly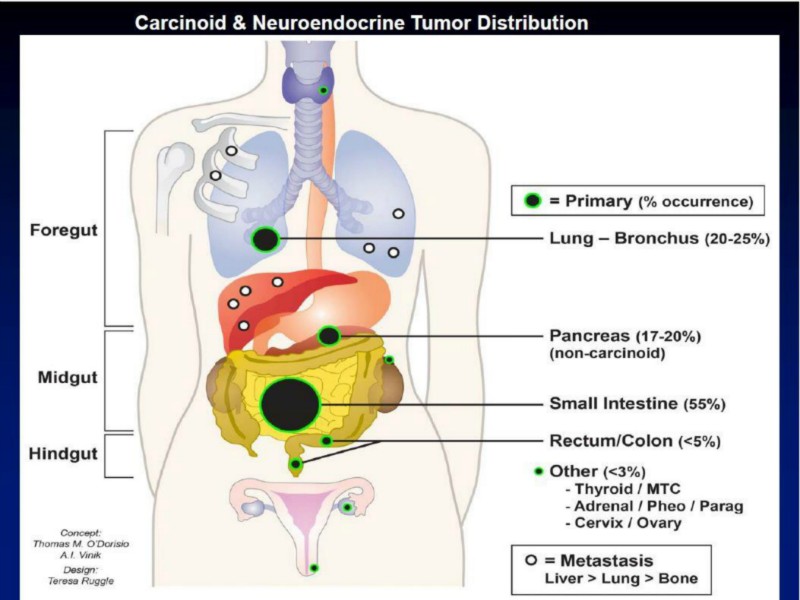 More recently, I have been a patient at the Ohio State Medical Center. Where on some blood work, it finally showed that I have elevated hormone levels that are consistent with a rare tumor called Carcinoid. As there tumors advance, they produce what is called Carcinoid Syndrome. It is when the tumors produce too much hormones in your G.I. tract and causes severe cramping, discomfort, night sweats. Any time that I eat, just after a few bites, I begin to cramp and have to use the bathroom where it's violent diarrhea. Carcinoid tumors can be very small, like the size of a grain of rice, and are very hard to locate. They cause havoc to one's body. They are known to spread to other areas of the body, like the lungs, kidneys, liver, or heart. Some people - such as Steve Jobs from Apple - and Dave Thomas from Wendy's - had and have passed away from Carcinoid tumors. 40% of people with tumors (like me ) there tumors don"t show up on scans . I have friend who had 3 tumors show up on scans, but when she had surgery there was over 30 .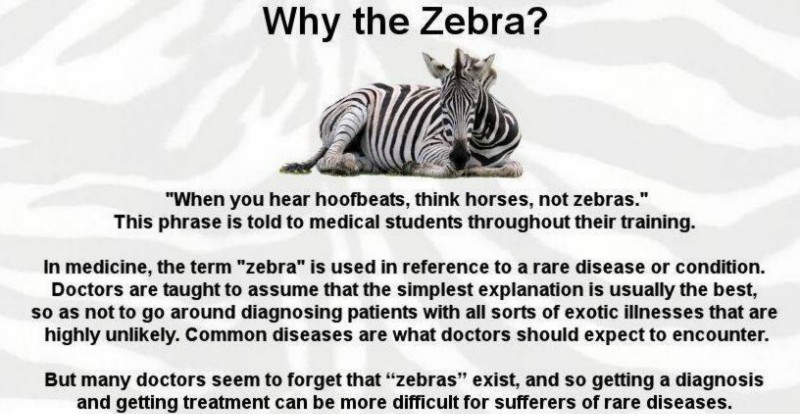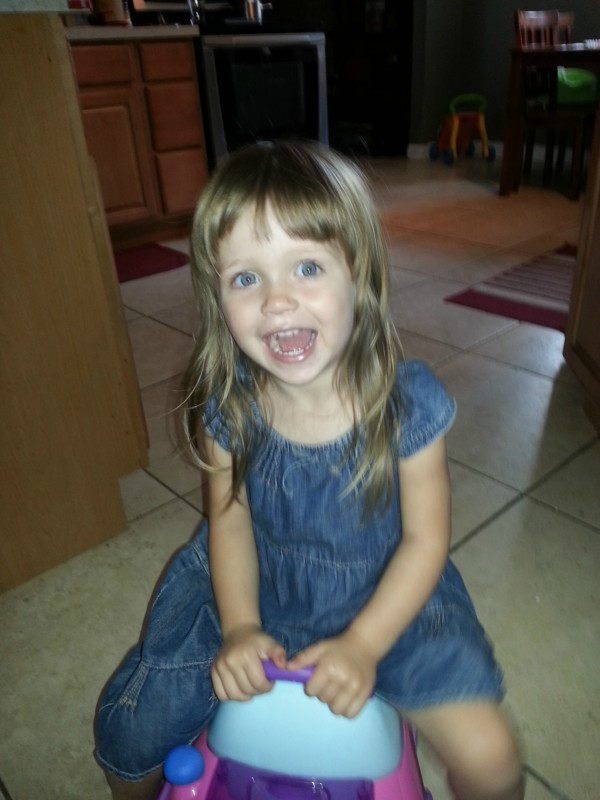 Abygail weeks ago
If my family's luck wasn't bad enough, Abygail (our 2 year old) is epileptic and has had multiple seizures. Just her medical bills and monthly medication costs would have sent us into bankruptcy, then add my own medical bills and medication costs, and my wife and I were forced to file Chapter 13 bankruptcy in 2011. Even with having good insurance through my wife's employer, we had one bills alone from the Mayo Clinic for $73,000. We owed $350,000 in my medical bills.
Abygail after big seizure and all the tests. MRI's light flashing test.
Just in the past 3 months, my doctor started me on a new medication which has helped ease some symptoms. I haven't made any new kidney stones in the past 2 months. In the past, it was an average of 3 - 4 a month. Now my doctor wants to start a new medication which is a twice - a - day injection that would help my symptoms even more and take away the flushing and sweats. (This would make my wife happy, too, that the bed isn't drenched in sweat.) For this version of medicine, the cost is over $6,000 a month and I am currently appealing my insurance company's denial statements. There is also a better route to take where I'd only have an injection twice a month, but that is over $10,000 a month. Weeks ago during a colonoscopy, precancerous polyps were discovered. In January, I have another colonoscopy where they will be searching for my primary tumor and other secondary tumors.
With me being ill, it is hard enough having my body shut down but seeing my family get put in financial ruin and even making it hard for other family members who have drained their own finances trying to help us, it has been very hard to deal with. We are at a huge risk of losing our home which we worked so hard to purchase 6 years ago, and have no way out of it. We feel we are in Pandora's Box from everything our family has endured - our credit destroyed by bankruptcy and bills, my inability to provide financially as I need and want to, dealing daily with my medical problems and symptoms which are getting worse and worse. And the worst is yet to come, medically.
The good out of all of this is that I have become very humbled for what I have. I have reached out to God more than ever before. My family and I have joined a wonderful church - Vineyard of Middletown, OH - which is a branch of Vineyard Cincinnati - and we have a strong connection of church family / friends and community. We have even taken a Dave Ramsey Financial Freedom course through the church to help us manage our money, because it has been very tight financially. My goal is to not leave any debt to my wife, Amy, and our daughters.
My friends told me to start this page and I am skeptical - I have never reached out in this way before. Donate if you want to, and I promise that I will pay it forward. I want to be an advocate for Carcinoid tumors. So even if you are someone just reading, you are now one more person who is aware of this deceptive and deadly disease that so much is unknown about to most people. And that to me is it's weight in gold.
God's plan for me is unknown, but what I do know is that I married the love of my life and I have to precious and beautiful little girls and I am truly blessed. I give all of this to God. It is in His hands.
Thank you for reading.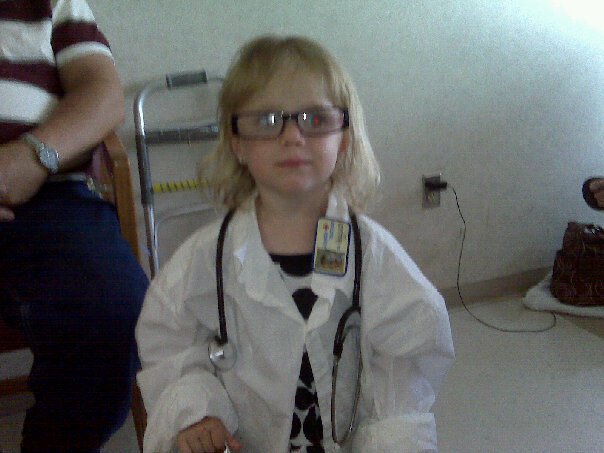 My new Dr.