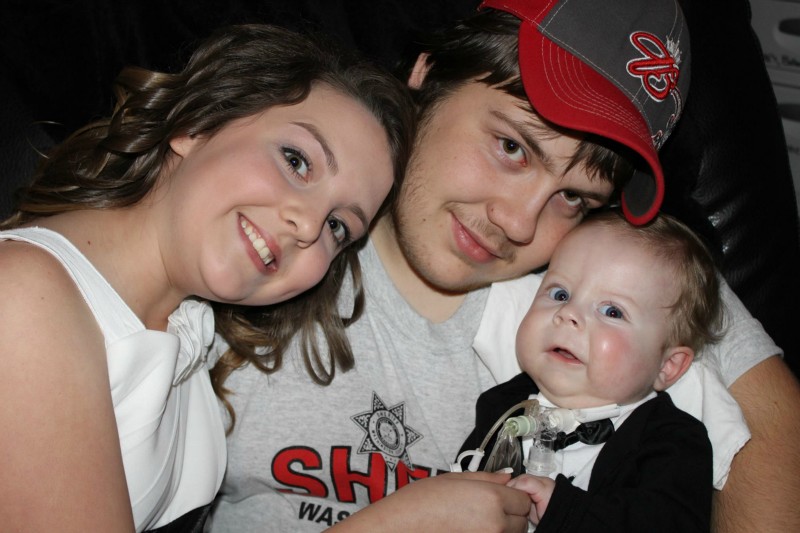 Baby RJ Facebook Page
Baby RJ is fighting for his life every second of every day. So help my family fight with him by helping fund the fight. We want to see the lil super hero smile and laugh. I want to be able to focus on him and not worry about the bills. We are trusting and believing in a God who loves RJ.  So whether you give or not...Please pray for the miracle of RJ's complete healing. Here is his story told as if by him.
Baby RJ: My Name is Baby R.J. Morelock. I am a normal happy baby. I will be 1 year old soon though my normal is different from other babies.
My mommy noticed that I wasn't moving like other babies and was worried. She would watch me sleep and noticed I wasn't breathing good and would wake me up. She told the doctors and at 2 months old, I had already been to 2 different hospitals for breathing problems. Something was wrong, and a mommy always knows these things.
I was diagnosed with a disorder called Spinal Muscular Atrophy Type 1 also called SMA. Its not good. My family had 2 choices, let me die or fight for me. My family decided to do everything to save my life, but also to not let me suffer, for there is no cure for SMA. So I had my surgery in August, 2013.  I was giving a trach, feeding tube and a wrap to keep the acid reflux down.  By God's grace, this saved my LIFE. Well made my life easier, but made my family's life more difficult. I am not just a baby no more, I have to be watched all the time, 24/7.  
 I bet most of you have never heard of SMA, even though it is the #1 genetic killer in infants under the age of 2. This disorder can't be caught. It was nothing my mommy did while she was carrying me. It is because my parents are carriers of the SMA gene. 1 out of 35 people carry this and don't even know it. Are you a carrier? Only a genetic test can tell. All my test came back normal when mommy was pregnant, but the test doesn't test for SMA, it is a special test you have to ask for.
This disorder affects my voluntary muscles. Its like I am paralyzed but still have feeling. I just can't move, though I try and I try. I can't roll over, lift my arms, hold my head, crawl, walk, and I can't even swallowing and breath very well. You see I have type 1, the worst. So I will never be able to those things.  Nor will I get to eat real food.  I will lose all of my movement, but I still have my smile and I can move some of my fingers. And of course I have the ability to make people smile back. This disease does not affect my mind, I am very smart and I focus alot with my eyes and pay close attention to what is going on around me. I love watching people, cartoons and ballons.
My mother wasn't able to go back to work and this disease has put my family in a hard situation. See, its just a check she gets because of me, what around $700 a month. Now your talking about paying everything out of that. Life has been tough. Its hard not knowing from one month to the next if you will have the money for anything. But God has provided for us so far and we are blessed.
I have 24 hour nurses that have "moved in" to say to help mommy care for me. My car seat is not a normal car seat, my seat lays down. It is called the Hope Bed and its big.   Since I have no neck control I can't sit up by myself. I have a lot of equipment that has to be with me. Besides the normal baby stuff,  I also have a Vent that helps me breath, this is the hole in my neck with the tubes, it heavy and bulky. That how I get AIR. A suction machine to get that junk out of my lungs, this suck out my mouth, nose and my trach (of course we have different tips to do these different things.... can't mix them up or I will get sick). Oxygen tank, feeding machine, my pulse oximeter, cough assist machine and back up batteries to run my vent and trust me they are pretty big batteries and they are heavy. I have my stroller for now but I will be getting a special needs stroller soon to help transport me and my equipment.      
I appreciate you taking the time to read about me and if you want to know more about SMA, the website I have is curesma.org. There are many of babies just like me, you just never see us out in public because we can't get sick. A common cold could put us in the hospital and we are not strong enough to fight it off. If I can help raise awareness about this disorder, then I am very happy.
I know that I wouldn't have made it this far without God. He has looked after me and my family and I am truly grateful. I know they say the odd are against me, but I am a fighter and I want people to know that I am a happy normal baby. Sure, I require more help, but I think I am worth it as does my family. I appreciate all the prayers and well wishes that I have received from all over the world. Though there is no cure, they are so close to finding a cure. FDA has some drugs on fast track status and I am so so excited as well as my family. God has a purpose for me like he does for you and we just need to find out what it is.
If you want to check me out daily, you can go to my facebook page: Asking For Prayers for RJ Morelock..Thank You in advance for your time and your donation, any help will be greatly appreciated and needed, no matter how small and God Bless you and your family for he blesses me everyday!!
Love ya all,
Baby RJ
Mommy: No journey is too great to get him the care and medical attention he needs & No contribution is too small!  Please join us in being his Prayer Warriors!!! He has a long journey ahead, but the family is filled with faith, hope and optimism. "With God, all things are possible." RJ is so strong; he can conquer anything! THANK YOU ALL for your love, support and prayers!!!
Love, Mom
Crystal Fitzgerald-Morelock