New Multipurpose Bird Aviary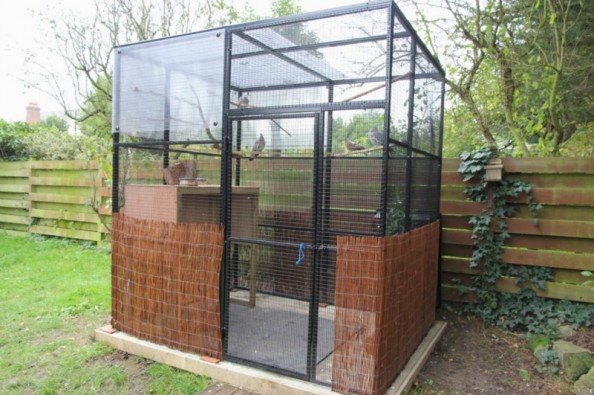 Thank you very much to all our supporters for your continued support. Without your help we would not be able to do our work and to help animals in need. Thank you so much!
Please Help To Fund Our New Multipurpose Bird Aviary
Wight Nature is devoted to wildlife rescue, wildlife and nature conservation, animal rights and veganism. We are two people trying to help our wildlife here on the Isle of Wight. We are 100% self funded. Your support is very welcome.
We have just finished to built another multipurpose bird aviary, which is urgently needed to provide different species of rescue birds an appropriate temporary home for their convalescence. This aviary can be easily converted and has already housed birds like a great white egret, wood pigeons or collared doves.
Wight Nature Website -
http://www.voigt-web.co.uk
What is GoFundMe?

Fundraising made easy >>
CONTACT
LINK
POSTER
REPORT
Hi Kristin and Stephan, you're doing amazing job, well done guys! Maria
I cannot thank Kirsten enough for organising the rescue of a very distressed bird, stuck in our chimney. We've only been on the Island a week and knew nobody to ask. The RSPCA and RSPB were no help at all and I was becoming as distressed as the bird, listening to its desperate flappings to escape. It wasn't easy finding someone to remove a fitted gas fire on a cold dark evening but Kirsten managed to find TWO(!) wonderful people. Said bird is now safe and warm and miraculously uninjured - and we needed a new fireplace anyway! Many thanks to Claire at JJB Gas and Mark from MA and RM Skeels. I am full of admiration for all these helpers. Thank you.
Karen Naylor
2 months ago
Hi Kirstin, Stephan, I will donate again soon :)
Kate Fleming
8 months ago
Hope the juvenile crow, that I brought in to you today, makes a full recovery. Thankyou for the good work that you all do x
Andrew Wright
8 months ago
Alison wright
8 months ago
Thank you for the amazing work you do. Hope Rose the Herron makes a full recovery. X
thanks for taking in crow.
Cait Cochrane
10 months ago
Happy Birthday Stephan, You are doing astonishing stuff. Warmest Cait and Emx