Help a small village decimated by Haiyan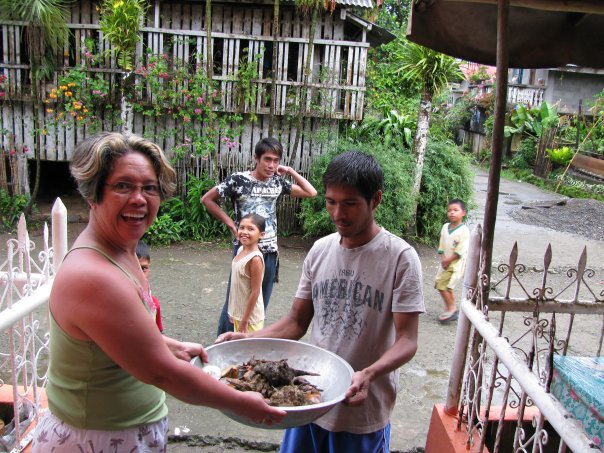 The site is still active for about another week! My parents will be in Manila around the 18th and all the funds will be sent to my cousin who has been organizing getting school supplies, tools, building materials, etc. for the village. How wonderful are all of you for showing your generosity? You're the best.
Two days before typhoon Haiyan/Yolanda hit the Philippines, my parents and sister moved to my mother's childhood village of Maslog, on the southern shore of remote Eastern Samar. The center of the typhoon hit the small village of several hundred, and aside from a few concrete homes, the village was decimated. Due to Maslog's remote location and severely damaged main road, aid and supplies overlook the area and go to Tacloban, the large port city seen in the news (Tacloban is about 50 miles away on the neighboring island of Leyte).
I have been asked by many how to aid my family and get supplies to the village, as it is very hard to get money and supplies from the U.S. to the Philippines. My cousin in Manila can get your donations (mostly in the form of essentials) directly to the village. If necessary, I will go to the Philippines and deliver the funds and supplies to the village personally.
Just a few dollars can buy so much, from a sack of rice to safe drinking water. Your small donation would make such a large impact on people who have been through so much trauma and have lost everything.
Thank you for taking the time to read this.
(This picture is of my mom in the village in 2009)
What is GoFundMe?

Fundraising made easy >>
CONTACT
LINK
POSTER
REPORT
Mrs. McKillip's Grade 1 Class
15 months ago
Please buy school supplies for the children in Maslog. We are sad that your school was hurt. We hope you get to go back to school soon. We will write you letters in January and hope that Uncle Pat, Aunt Gloria or Cousin Pam will read them to you. From your friends in Mrs. McKillip's Grade 1 Class
Dale Schiff
15 months ago
Heather Self
16 months ago
Colleen Dahl
16 months ago
Thank you for doing this!
Jess Dorsey
16 months ago