Be the first to like this update
First photo of projects today! This group researched Al-Haytham and his study of optics and the pinhole camera which led to today's cameras. They taped their cell phone on their board, one recorded everyone coming up to their board.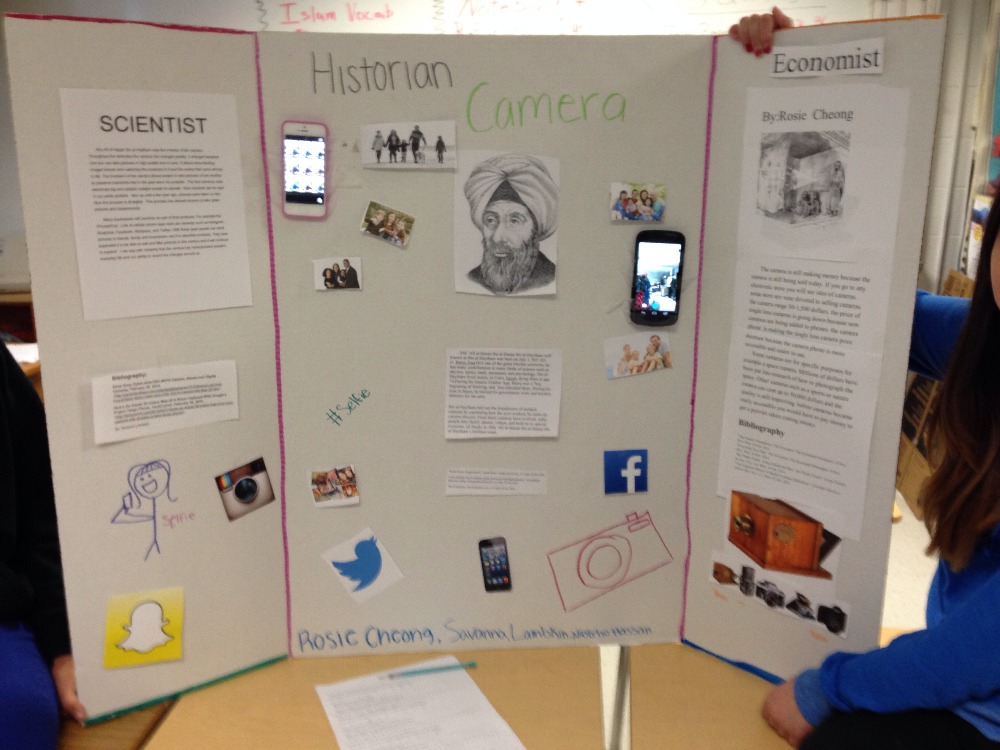 The short & sweet story - Yesterday a high school junior in a history class I am observing asked me why can't "...we have a good education like those kids at schools where they have to pay. They just keep pushing us out. But you are cool Ms. C, you take the time to explain stuff to us." She is right, why can't she have just as good of an education as the private school kids.

I am trying to finish my teacher certification at the George Washington University Community Engaged Teaching program. After being accepted into the program, but denied funding and thinking I was going to have to move to Maine and work on an organic farm until I figured out what I was going to do with my life, the co-director called me up a month later (a week before the program started) and offered me some more money. I couldn't turn it down. I owe $8K to the school, I've taken out student loans to pay my rent because my p/t retail just isn't cutting it. I can't take out more loans, well because I want to be a public school history teacher (in case you hadn't heard, teachers aren't bringing in the loot). So help me change some teenagers lives and become a kick-ass teacher!!


The sappy long story - In my early twenties I decided I wanted to teacher high school after I read the autobiography of Congressman John Lewis, Walking with the Wind: A Memoir of the Movement. Lewis' first-hand accounts of the Civil Rights movement and its dramatic impact on the United States discredited everything my high school history classes taught me. I began to think about my distorted view of history and became determined learn "true history." If my high school failed me, how many other teachers failed their students.

I finished my career in apparel production in New York City and returned to college to obtain my degree in history. After working in education and with non-profits I decided I needed to complete my education and secure my Masters. I became really interested in a program at George Washington University called Community Engaged Teaching (CET). The CET program which focuses on social justice education, connects classroom teachers with community partners to educate students beyond the classroom. CET students participate in a service-learning project that fosters environmental restoration and sustainability in Washington, DC and translate that service-learning experience into curriculum for use in the classroom.

I applied to the program in January 2013 and applied for a full fellowship as well. I knew I could not afford full tuition for GW. In April I received my acceptance letter to GW! I was one step closer!! But the funding they offered was minimal, so I had to decline. ARGHHH! Bummed out I had no idea what in the world I was going to do and had resigned to moving to Maine and working on a organic farm for the summer, my dog was super excited about this, me not so much.


But the universe had pity and on Mother's Day the co-director of CET called me to say they found more funding. This time I could not turn it down. But wait, "Dr. Casemore don't classes start next week?" Why yes they do Nicole! After the shock kinda wore off, I accepted, well how could I not. They offered me an almost full ride. So for 6 days, I barely slept and packed up and gave away my life of 7 years and moved to Northern Virginia. I missed the first two classes and couchsurfed in a strangers basement for my first week in the area. After a splattered blood affair from said strangers greyhound, I knew I had to get my own place (whole nuther story).


The CET program is a full-time 13.5 month program. I cannot work full-time because we were placed in classrooms from the second month. I took out a loan to cover my rent, which will run out in June 2014. I have a part-time job at Banana Republic and for a month I had a second p/t job sewing scarves for a woman who sells on Etsy, but she ran out of money and let me go. My p/t job barely covers my expenses and I haven't been able to save money to pay for my tuition next summer.


And that is where you come in. I am hesitant to take out more loans, I still have undergrad loans to pay off. Teaching is not the most lucrative career, at least not in the schools I want to teach.


So what type of teacher will I be? I believe that history should be taught from multi-perspectives. I bring social justice issues into the classroom and am an advocate for project-based learning (students conduct research to answer a question they have). Teaching should be fun and engaging. For one of my classes I created a lesson on primary sources called "Source Wars" and used the Star Wars theme. I'm working on a 6 day lesson now on women's suffrage in Great Britain in which students choose if they are pro or anti suffrage and create a music video, documentary, online exhibit, or graphic novel to make Parliament vote for their side.


For five weeks this fall I am observing a U.S. History teacher at a DC public high school that re-opened three years ago after being closed down. It's a gorgeous building with an open atrium, greenhouse, and a kick-ass garden. Students walk through metal detectors and their bags go through ex-ray machines each morning. The 11th graders I work with read on a middle school level. Over half of the students are failing their history class.


Yesterday I worked with a student in drafting an essay on African American social and economic conditions during Reconstruction. His essay was due two days prior, but I convinced him to still write it to take a lower grade. We worked through his lunch and after school I saw him when I left the building. He stood with two friends in the stairway and introduced me to one of his friends as "his favorite teacher." I've only worked with this kid for four days and will only see him for three days more. To think that I have made that big of an impact on him in such a short amount of time brings tears to my eyes.
What is GoFundMe?

Fundraising made easy >>
CONTACT
LINK
POSTER
REPORT