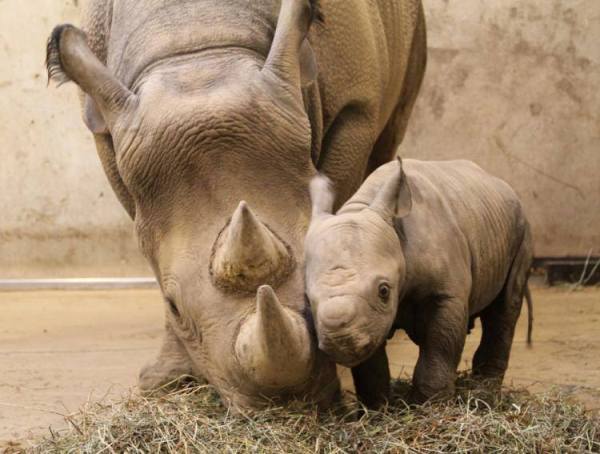 "People are talking about 'Why don't you do a photo safari?' or whatever. Well, that's great, but people don't pay for that," –Ben Carter, director of the Dallas Safari Club.
The Dallas Safari Club has secured a permit to hunt one of the last 1,800 black rhinos in Namibia. They expect to raise up to $750,000, in which all of it will go back to the Conservation Trust Fund for Namibia's Black Rhino.
At the beginning of the 20th century, there were approximately 500,000 rhinos across Africa and Asia. Black rhino populations fell from 65,000 in 1970 to 2,300 in 1993, but have currently risen up to over 5,000. The last century witnessed the disappearance of creatures such as the Newfoundland wolf, Caspian tiger, and passenger pigeon. If we are not careful, a lot of other species may encounter the same fate.
The western black rhino has already been declared extinct. Namibia, located in the southwest corner of the African continent, has led conservation efforts and has the world's largest population of black rhinos. Conservation efforts are funded from people across the political spectrum – everything from private donations, government programs, and gifts to the Conservation Trust Fund for Namibia's Black Rhino.
The easiest argument for why using a permit to kill one of these animals is that solely using money as a means of protecting the lives of any species is not the answer to attain longterm victory. The killing of an animal such as this brings no merit to the cause and only serves as a frivolous prize to the person who felt that their cold deed was a triumph. Conservation efforts need to be done with genuine sympathy for the cause.
We need your help to make a statement and show that money, however trivial it may be, can be raised without resorting to such grotesque measures. How can we expect to achieve anything in cold blood?
What is often so sad about humanity also is what can be so great about humanity – the same power we use to destroy can be used to save, nourish and rebuilt. Please, help us to save, help us to nourish, and help us to rebuild, without the loss of another rhino. Remember, a good cause has no need for the use of a tactic so destructive.
"Victory attained by violence is tantamount to a defeat, for it is momentary," -Gandhi.
We will accept even the smallest of donations, for even a tiny amount of support shows our true passion for the preservation of the black rhino.
For more information, please read:
http://news.yahoo.com/hunt-a-rare-rhino-so-you-can-save-rare-rhinos-143758730.html