TPLO Surgery for Abel by 11-20-13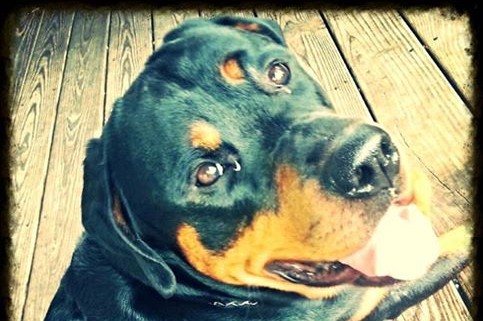 Raised: $220.00
Goal: $800.00
Created by
Megan Ross
112 Friends
Contact
Embed
Created by Megan Ross on October 22, 2013
About 3 weeks ago now our young rottweiler Abel was playing and jumped a little harder then he should and when landed, the yelp he let out was one that put a pit in our stomach. He was taken to the local animal hospital and we received the news; complete torn ACL/CCL.($400.00) He will be 3 in February; this is not something we expected would happen EVER. We are heartbroken to have our fun, loving furry child penned up with limited movement until we can get his surgery. He has the warmest, biggest heart of any dog I have ever known, he doesnt understand why he cant snuggle on the couch or bed with his family. :( It's very stress for all of us.
This past month I have encountered several financial set backs making it very difficult to afford this on my own; or to save quickly to get his surgery.
I am updating the fund reason, seeing as how every vet we have called has strongly disagreed with the stifle brace method given Abel's weight and age and activity level.
The lowest I've been quoted for the surgery is near $3,000.00 our family vet is willing to work with us by letting us put $1,500.00 down and we can negotiate a payment plan on the rest. We have a voucher from the Humane Society for a small portion and expires 11-20-13 so we are desperately seeking help to reach our goal to get Abel his surgery. I have looked into as many resources as I can to date for assistance with this. Thank you to all who have donated and to anyone else who is able to help we truly appreciate your gratitude.

Thank you,
Megan & Family.
Recent Donations (6)
$220 raised by 6 people in 6 months.
$110.00
H. Nelson
5 months ago
Good luck and a speedy recovery for Abel! (from two dog lovers)
$10.00
Anonymous
5 months ago
$40.00
Amy Ross
5 months ago
I love u Meg
$20.00
DONNA FUKURA
6 months ago
$20.00
Amber Gransden
6 months ago
:)
$20.00
Irina L
6 months ago
Wishing Abel a speedy recovery!!
1-6 of 6 donations