Mr. Meowgins needs to go to dentist!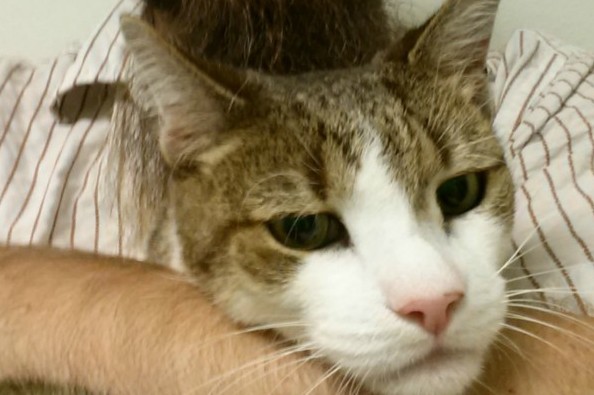 Good news! Mr. Meowgins surgery was a success! Thank you all who helped support, spread the info and wished him luck! I will be rejoined with my kitty in about an hour or so. Thank you again!
Well.. my poor kitty Mr. Meowgins' sharp bitey tooth fell out. Took him to the vet and now he needs root canals! He has been with me for 10 years since a little kitten so of course I am going to have him taken care of.. except there is no Obamacare for my kitties and my healthcare laughed at me as kitties cannot be claimed as dependents. :(
Short of the story is dental work for cats costs as much as humans!
The importance of this is severe, infection can spread from these teeth issues and I was lucky to catch it when I did! Make sure your cats teeth are looking good if they are getting up there in age as the doctor said this is common.
If this works any extra money will be donated to the animal hospital,
Sunset Cliffs Animal Hospital
in OB, San Diego.
Thanks for looking!
What is GoFundMe?

Fundraising made easy >>
CONTACT
LINK
POSTER
REPORT
Mastercard, Visa, Amex and Discover
17 months ago (Offline Donation)
thanks for the booming economy and the rest of the credit extended to me through various credit cards to pay off the rest of this. and to close this funding! :)
KNS
17 months ago (Offline Donation)
KNS doesn't want to be mentioned lol.
David Lester
17 months ago
I am not a rich man. But I love animals! Get well soon Mr. Meowgins!!!!
arlene alasandro
17 months ago
Our wishes for a successful surgery and speedy recovery!
Krystyn Rutzel
17 months ago
Glad I can do something small for you after all you've done for me. Good luck herrmann.
Richard Herrmann
17 months ago
Even though Mr Meowgins hated me, I'm doing this for his sister who liked me and for you. Hope all goes well.
Adam Serrano
17 months ago
Hope he gets better. I know what it's like to care for a cat as much as a human. =]
DEBORAH HERRMANN
17 months ago
I hope Mr. Meowgins gets well soon. I know how much you love him.