AlecSeanBailey MicropreemieSpinaBifida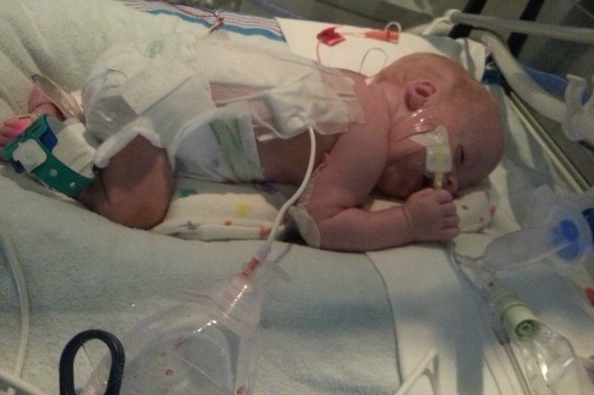 Alec had another back closure surgery 11/26/13 and is recovering well so far. He really want his vent tube out. He is also schduled to have his eye laser treatment surgery next Monday.
https://www.facebook.com/AlecSeanBailey
Alec was born 8/30/13 at 3:43 A.M. by c section. He weighed 1 lb 5 oz and 11 inches long. He was helicoptered to Children's in New Orleans after he was stabilized. Alec has Myelomeningocele (say "my-uh-loh-muh-NIN-juh-seel"). Although this is the most rare and severe form of spina bifida, it is the form most people mean when they say "spina bifida." Part of the spinal nerves push out of the spinal canal, and you may see a bulge in the skin. The nerves are often damaged, which can cause problems with walking, bladder or bowel control, and coordination as well as developmental delays. Things can be done later to help correct those problems.He may also need a shunt after they close his spine to help drain the spinal fluid off of his brain. His skin is open and the nerves are exposed. Alec has had 3 blood transfusions and a round of platelets, the blood transfusions help him maintain blood pressure and O2 stats. The platelets help him form blood clots his level went below 50,000 they were at 49,000 requiring him to get platelets. His stats have been up and down but he responses well when they go down and they do things to bring them back up. He get dopamine to help him keep his pressure up. He gets versed to sedate him around the clock so he doesn't move around so much b/c he's on a vent that keeps his lungs open and his O2 up. He has had 3 rounds of antibiotics b/c his lesion is open but covered and they keep it moist with saline. His lesion is at the bottom of his back measuring 5 cm long and 3 cm wide. They can't do surgery on him till his lungs become more developed and his skin gets tougher. They are giving him steroids to help develop his lungs and help raise his blood pressure. They sent his blood in for a culture yesterday no news is good news but they check it for up to 3 days.He is at risk for infection especially spinal mengitus. His heart rate is good but they think his pressure keeps going down b/c he may have a hole in his heart which most babies due that usually close up after the are born. He too small for them to actually check it right now but if he does they can try medicine to helping close it ,if it doesn't close on it's own and or surgery later. He may have not formed his cerebral cortex this separates the left and right sides if his brain. They aren't sure about this and have no idea what the out come of it is but correlates with the Spina Bifida. We will be here till his due date 12/13/13 or maybe even after that with have one surgery and possiably two others(Shunt, Heart). So he needs everyone's prayers and support and donations.9/3-4/13 Stats update oxygen is at 60% his o2 level is currently 92 it was 95 and early it was 100%. His blood pressure mean is 40. So his dopamine is currently 7 she probably won't change it for the rest of the night.They are trying to lower it every hour and get him off of it. We need money to help with travel cost for daddy back and forth when he's off and gas back and forth to the hospital. His grandmothers are switching out staying with me and we'd like to help with their travel expenses. It cost the family $10 a night to stay here at Ronald MacDonald House we have alot of our food provided but still need some money to cover snacks, lunches and drinks. Thank you everyone for everything. God Bless. I know hes blessed me with my Mircle baby and continues to each day when he's doing better.





What is GoFundMe?

Fundraising made easy >>
CONTACT
LINK
POSTER
REPORT
SILVER
DeeDee Kennedy
17 months ago
Prayers
DIAMOND
Sending love to all of you.
SILVER
Michelle Wheatcraft and Danny Bluck
18 months ago