Hello!!!! We are Cloud 9 A Cappella, UCSC's original a cappella singing group. Established in 2001 we have been rocking collegiate a cappella for over a decade. We are completely
student run
and
student funded.
We frequently sing in downtown Santa Cruz and enjoy doing private gigs all over the Bay Area. Please help us raise money for our travel expenses, CD production, merchandise manufacturing, International Championship of Collegiate A Cappella (ICCA) registration, etc.
Cloud 9 A Cappella could really use YOUR HELP to get us off our feet!! Any donations are very much appreciated, not only to help Cloud 9 for the 2013-2014 academic year, but to support Cloud9ers to come!
More About Cloud 9:
Cloud 9 A Cappella was born and raised in the small french-canadian town of Santa Cruz, CA. Using their magical singing voices they have fought the forces of evil for over a decade, donning their fantastic garbs of randomness they run throughout the country side bringing kings to their knees with their awe-inspiring dances and earth-shattering chords. Like the turkey, these singers cannot fly. But we digress.
While known for their weirdness and frequent costume changes, Cloud 9 is well known for their musical talents and vivacious attitude. Cloud 9 has won several awards for Arrangements, Soloists, Vocal Percussionists, and more. They have been acknowledged for their prowess by renowned artists such as Ben Folds, and Parachute. Cloud 9 can often be found singing in Downtown Santa Cruz and the surrounding forests, as well as up and down the California coast. They love to sing and perform and would be more then happy to be a part of your performance.
For more information about Cloud 9 A Cappella check us out on:
Youtube:
http://www.youtube.com/cloud9ucsc1
Facebook:
https://www.facebook.com/cloud9acappella
Website:
www.cloud9ucsc.com
Thank you in advance!!! We appreciate your generosity in supporting the arts!!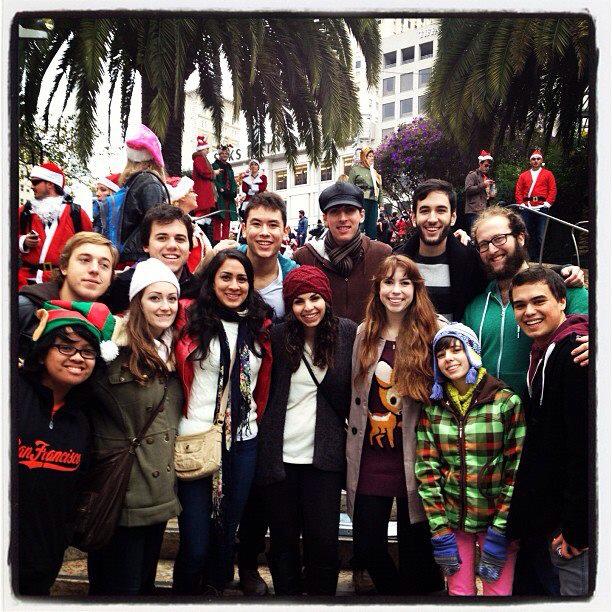 <3 Cloud 9 A Cappella