Well, very, very sad to say Little Luciano didn't make it. This poor, tiny, baby had too much stacked against him and he was just too weak to pull through. I'm very upset. We just buried him in the pet cemetery out back. Thanks for all the condolences. :(
About 2 weeks ago, the tiniest kitten appeared on my back porch with a bloody neck wound. It looked to be just at the point of walking and its eyes were opened, but it had to be about 3-4 weeks old. I had to feed him every few hours by syringe until he figured out what food was! He was just at a point where he was starting to really take off on his own and thrive, when he started vomiting. In the puke I saw a tapeworm. So I went ahead and treated him with tapeworm meds. But before the meds could work, he kept throwing up and he dehydrated quickly. I brought him to the vet because I could feel him losing body heat! He is at the vet's tonight and if he lives through the night, then I think he'll make it. He just became a fur covered skeleton so quickly!
He is just a tiny thing, vet said 13 oz. We named him Luciano Purvarotti because my husband and I love Italian cats and if he lives he can join Enzo Furrari and Giuseppe Furde! I hope he turns out 'Lucky' tonight!!!!
Here is a picture of him, he is not much bigger than my mouse
You DID help me save my kids. I thank you all!!

This fund was created by me, The Halloween Goddess to help my children. After going through cancer, divorce, losing my job, repossession of a car, foreclosure on my home and finally: bankruptcy. I'm just wiped out. And I can't help my children, which is a horrible position to be in as a parent.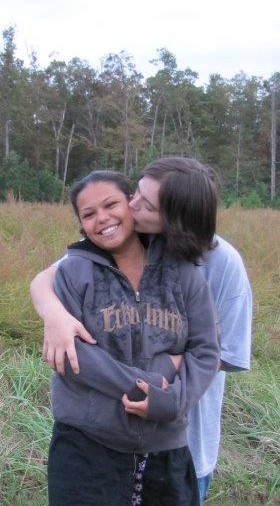 We saved the house. The impact that losing it would have had on MY life would have been significant and would have hampered my ability to complete my recovery from all the aforementioned issues.
I'm leaving the account active for a while because anything extra I can put towards fixing up the house would be an amazing thing!
While most of the house is sound, it is in need of serious repairs. There was a water leak in the bathroom which caused the sheet rock to collapse in sections where it got wet. It caused warping on the cabinets which needs to be corrected, there is a broken toilet that needs replacing among other things. The list goes on!! Since the carpet was pretty old and beat up and with no means of replacing it, Alex and Kia peeled it up and painted the subfloor brown so at least it kinda looks like a floor!!
If we can generate the money, any amount over the delinquent tax bill will be put towards the repairs on the home and possibly starter money for the infant. My husband (I'm re-married) and I will do all the labor and repairs on the home, but we still need money for supplies. Keeping up with everything is hard on them, as they both walk to work full time at a big retail store and between the two of them there isn't a lot of extra time or money to repair the house, pay the taxes AND prepare for the new baby.
To all those who heard me today on R&F, I can not express my gratitude. I will post more on how you all, caring, thoughtful individuals have helped me in my time of crisis. Thank you!! And finally, most of all, Thank you Ron and Fez!!!