One week till Cow's surgery! We can't wait to get her straightened out so we can get our bouncy Mooback and in action. Thank you everyone for your thoughts, prayers, and help along the way!
On July 23rd, the dogs all went out to play in the evening warmth. Unbeknownst to us, Cow would return into the house with a flopping broken leg. After an expensive 3 hour visit with an emergency vet that ran us into the midnight hour, it was discovered that she had somehow obliterated her Medial Collateral Ligament (MCL). The MCL is responsible for holding the foot together and without it, it allows her foot to swing painfully (and unnaturally) outward and causes all her foot bones to dislocate. I bet you can imagine how painful this is!!!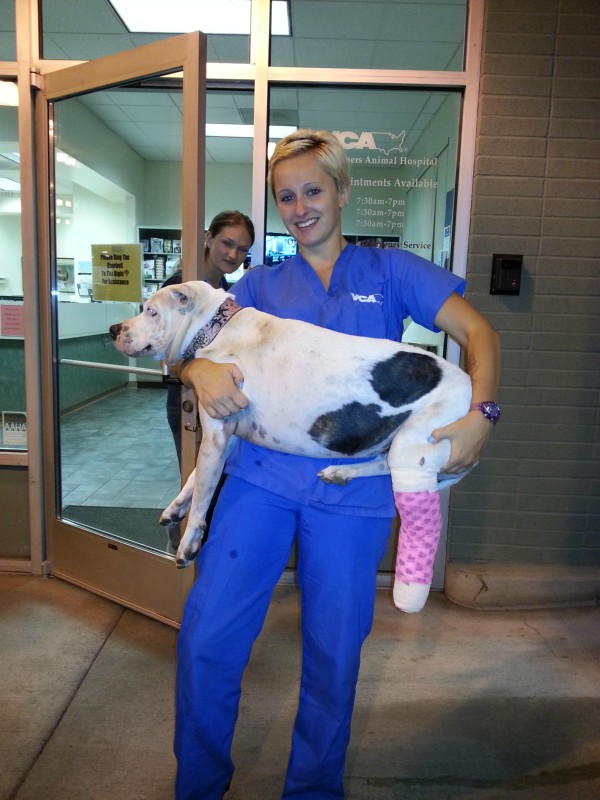 After a second vet visit with our family veterinarian in West Seattle, we came up with a couple solutions. Our first solution would be to fix her leg, of course. We would have to get together with a surgeon and pay $3500 or more to get plates put in or her joint fused. Our second option would be to amputate her leg for $2500... Our third option (and the one that we won't allow to happen) is putting her down. All three of these options are devastating either financially or mentally for our small family. We would practically have to give our own leg in order to afford saving hers!! With the help of Dr. Meredith, we were able to speak with Washington State University and discovered that they would be willing to FIX her leg as a student case for $2800!!
Cow is an amazing rescue pitty. She's a Canine Good Citizen and passed her official Temperment Test with a 98% (she was docked a few points because she didn't think the scary stranger was scary!). She's a breed ambassador who brings smiles to everyone she meets and has helped introduce new dogs to playgroups when she was a part of Bully Roundup in the past. Her doggy smiles and exuberance around new people make her memorable to everyone she meets.


This is where you come in. We come to you with humble hopes that your kind generosity would help save Cow's leg. We are looking to raise $2800 by September 12th... This is 7 weeks from now. Our vet said that we will need to keep her leg casted during this time and she will be on pain medication and anti-inflammatories, but that the wait won't change their ability to repair it.... Help us save Cow's leg!!