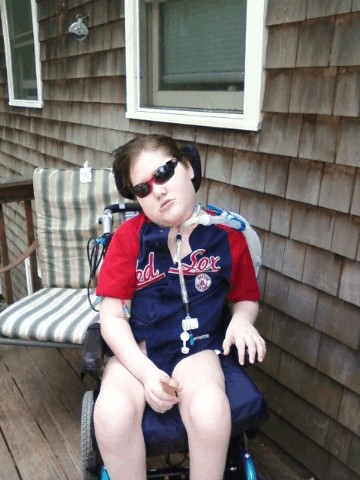 My brother has two children who suffer from Mitochrondial MELAS. It is an incurable disease. My 16 year old niece leads a pretty normal life in that she can go to school and her seizures are pretty well controlled with not too many stays at Children's Hospital.
My nephew David on the other hand has a much more serious case of this disease. He has lost his eyesight (which we are hoping will
return), is on a ventilator, in a wheelchair and on a feeding tube because the disease has affected his stomach and ability to digest food.. This disease has affected a lot of his organs. He has spent the last year at Children's Hospital and my brother has spend many weeks at Childrens with him and as a result has not had a steady income.
Little David requires 24 hour nursing , but unfortunately
they are having difficulty getting nursing coverage with all of his
medical issues. As a result, my brother has become his primary care
provider. He has been out of work since last December and has just recently returned to work now.
My nephew is in a wheelchair but there is no ramp at the house so he has to be carried in and out of the house by my brother. They also do not have a handicapped van, so the chair has to be put in the minivan and then my nephew placed in the chair. I am trying to raise money to get a ramp installed in the house and maybe get a handicapped van so my nephew is not house bound.
If you go on to the website mito.org you will get an idea of what
kind of problems arise from this rare disease.
Anything would be greatly appreciated. I know it would be a big relief for my brother knowing that he doesn't have to worry about losing the house and being able to get his son in and out of his house.
Thank you for your generosity.