Just wanted to say "HI!"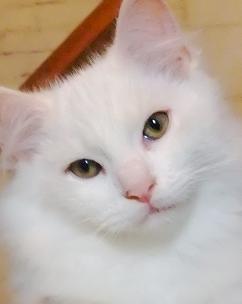 My story starts back in the first few months of this year.

A neighbor wanted to poison a pregnant cat....I attempted to trap her (with the help of a local "trap/release" organization) for two weeks!!! She was too street smart, no matter how I "baited" her in.

So, I decide to "trap" her in my basement.....she is kinda friendly, but she won't let you touch her. For 2 weeks, I'd open the door and put food inside and WAIT, and WAIT, and WAIT. She would not come in as long as I was by the door. Smart kitty.

But one evening, I gave up, left the door open, food out...and went upstairs. Later went down, shut the door.

I panic'ed when I didn't seen her outside in the morning..... then went to the basement! She "trapped" herself!!! PHASE ONE COMPLETE!

So for 10 days, she got accustomed to being pampered. She has food, water, milk and she even uses a litter box!!!!

PHASE TWO - April 15, four little kittens were born. WOW, to see this kind of a miracle for only the 2nd time in my life, I still am so amazed how the animals KNOW what to do. These little creatures are so tiny and helpless. and the mom knows by instinct how to care for them.

PHASE THREE- She finally felt comfortable enough with me to let me pet her babies. She got out of the box (happens to be a bigger litter box with a blanket I put in for her) and sat about 2 ft away and blinked her eyes at me. I took that as a good sign, so I gently pet each one, thanked her and left her with them.

One morning she let me pet one while she was still in the box with them. So now, I must handle them as much as I can, so they are "people friendly" as I need to find good INDOOR homes for the them. And the mama will get fixed so no more kitties. And hopefully I can get her to like humans so she can have an indoor home too.

THE ADVENTURE CONTINUES!

They are now just a little over two months old, and are such a joy to take care of, and I am doing my best to get the babies "people" friendly. It's a bit difficult, since mom is not letting me pet her, and two of the little ones are "taking after her". Two I can pet, but they don't like to be held.

In the meantime, I am taking very good care of them....but it is getting a bit expensive, so I am asking for a little help with them until I get them homes.

I am planning on getting the mom fixed as she WILL NOT go back outside until she is. (and she will have a choice of staying in).

My big dilemma is that I have other indoor kitties, so I keep Randi and her babies in my basement (it's fixed nice for them - rugs, open windows, very decent!). My other cats - I had brought a pregnant mom in 9 years ago and kept her AND the 5 babies, so I am not so sure they will all get along....

So, while I am raising this new family, I am asking for a little help, if possible. I want to take good care of them until I get them to the point of being able to go with a loving, INDOOR family.

I will be posting more photos (as soon as I figure out how.)

Thanks for the help!!!

PS I am not sure what the expenses will add up to, so I just put a figure in. What ever funds are left over after Randi and the babies are taken care of and have new homes, will go to the people who are going to help me "fix" Randi, (and the babies when they are old enough).
What is GoFundMe?

Fundraising made easy >>
CONTACT
LINK
POSTER
REPORT