Miracles 4 Myah 4 Easter!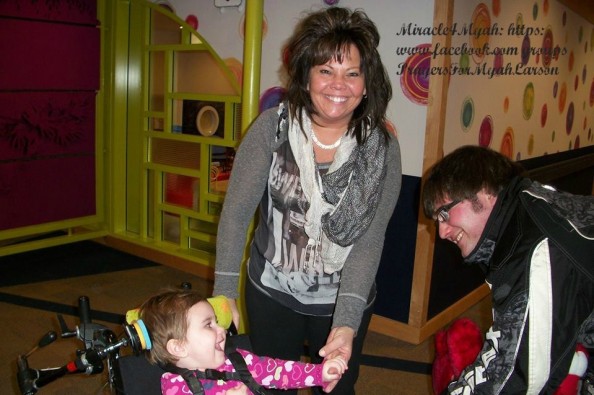 Praying to get Myah as many stimulating toys and lights as possible this Easter!! Not only for her vision but for her hand eye cord. and hopefully to help her learn to use her hands etc more and more! Any and all help is GREATLY appreciated! We wld also like to get some spring plants for her room! Thank You ALL for your help, God Bless Each and Every one of you whom have helped in each and every way!
On July 15th, 2013 Matthew Larson's 19 month old daughter Myah was at the home of her mother and her mothers boyfriend when she sustained injuries consistent with Shaken Baby Syndrome. Despite doctors telling Matthew at first there was grim outlook on Myah's recovery, she has been a fighter and as of today she is in rehab and has defied the odds thus far! She is laughing and giggling and striving to see and talk! She is everything they thought she would never be! 

With Easter around the corner we are hoping to give her a FANTASTIC Easter! With a Light machine to stimulate her vision and Bubble machine to make her laugh and some plants to brighten her room! :) Anyone willing to help us please donate here and all will be used to give Our Miracle the best easter EVER! Thank YOU! 




What is GoFundMe?

Fundraising made easy >>
CONTACT
LINK
POSTER
REPORT
Mary Callozzo
11 months ago
I love you Miss Myah!!
Jennifer Dolezal
11 months ago
Virginia Gilbertson
11 months ago
Most worthy cause I have found
Alyssa Hostert
15 months ago
Maggie Budisa
15 months ago
All the best to you and little Myah. I hope you can find some peace this Christmas. God bless you.
Carrie Wiegman
15 months ago