Awesome, I received a donation from an anonymous donor. I had actually given up hope about collecting anymore donations as I guess my request doesn't illicit a lot of sympathy!
I included a pic of the results of my surgery. 3 screws drilled into my femur. I'm moving around on crutches now but can't walk on my own *sigh*. Hoping for some more donations!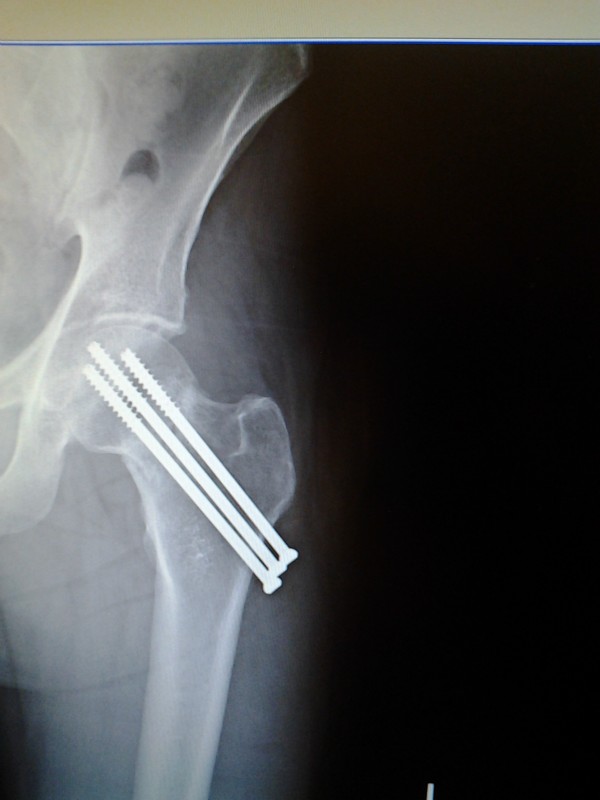 Hi Everyone,
I recently broke my Femur in an accident and had to get hip surgery. I can't go up the stairs or walk without the assistance of a walker. I am stuck pretty much in the living room with my leg propped up and doped up on medication for most of the day. Other than a lady from rehab coming by twice a month, I pretty much spend my days being forced to watch power rangers reruns with my two kids...
I can't work and am on medical disability. Basically I just have enough to pay rent, utilities, and other assorted bills. One of the luxuries I don't have is cable and now that I'm stuck at home I'm looking for something to do. Yes I know this is selfish but I'm trying to get a copy of the newest Resident Evil game called Revelations for PS3.
My wife 'just' got a job thankfully, and i'm stuck at home with the kids and incapacitated, I'm hoping for someone's generosity in helping me get this game. I wish I could afford small luxuries like this myself but even kid's meals are out of the question due to our budget constraints. I don't wan't to ask for rent money or money to pay our overdue bills even though It would be of better use to our family but I figured, one small gift for myself might not hurt?
The game is on Amazon if you wan't to check it out,
http://www.amazon.com/Resident-Evil-Revelations-Playstation-3/dp/B00B59L9T6/ref=sr_1_1?ie=UTF8&qid=1370539030&sr=8-1&keywords=resident+evil+revelations
It's about 40.00 (with free shipping) and even a one dollar donation would help greatly!
Once again, It's kind of a selfish thing to ask, but I'm stuck at home and staying up late playing games helps me forget the fact I have to ask my wife to help me walk to the bathroom and even take a shower..
Please Help!!