Harrison Fire Department Fund
Be the first to like this update
The tanker we lost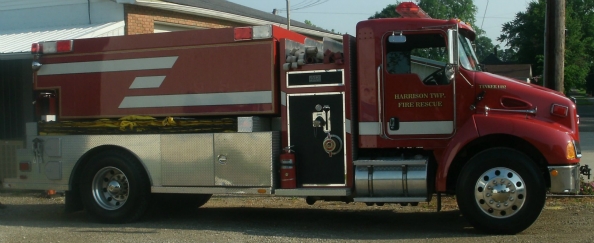 On 5/10/2013, someone broke into our station and stole our 2000 gallon tanker. After backing through a wall in the station, the truck was crashed and totaled less than a mile down the road.
We are an all volunteer fire/rescue and EMS station that covers 36 square miles. We also provide mutual aid with an additional 92 square miles with three adjoining townships and a state forest.
While our insurance is working very well with us, there are going to be many costs for replacement equipment, supplies and gear that we simply cannot cover. We have no tax base, no levies and our only funding for fire comes from the townships general fund and two fund raisers we hold every year.
Even with the generous support we are receiving from the people in our township, surrounding departments and our volunteers, we still need assistance with the things we simply cannot repair and cannot afford to replace.
For more details on our situation, please see the links provided for our local news coverage.
Any assistance, no matter how small will be greatly appreciated.
Thank you - Harrison Township Volunteer Fire & Rescue

What is GoFundMe?

Fundraising made easy >>
CONTACT
LINK
POSTER
REPORT
The Smallwoods
24 months ago
Once and Always
There are people I love in that township, and a LOT of good memories.
Chase Holdren
24 months ago
Best of luck to you guys! I'll be sure to donate some more on my next check!
Denise Ginther
24 months ago
This was my Son's 1st firestation[ Christopher Tatman], so I wanted to pay it forward.
Brian Watts
24 months ago
If everyone can give just a little it will go a long way to helping out and keeping their community safe.
Wishing you tons of luck in raising enough to get your tanker replaced. God bless all of the volunteers who work so hard to help save the lives and property of others.
Christina Valenitne
24 months ago
Best of luck from Redwood Meadows Emergency Services, Redwood Meadows, AB, Canada
Pottery Addition VFD
24 months ago
From one struggling Brother to another.
A brother from "The River"
24 months ago