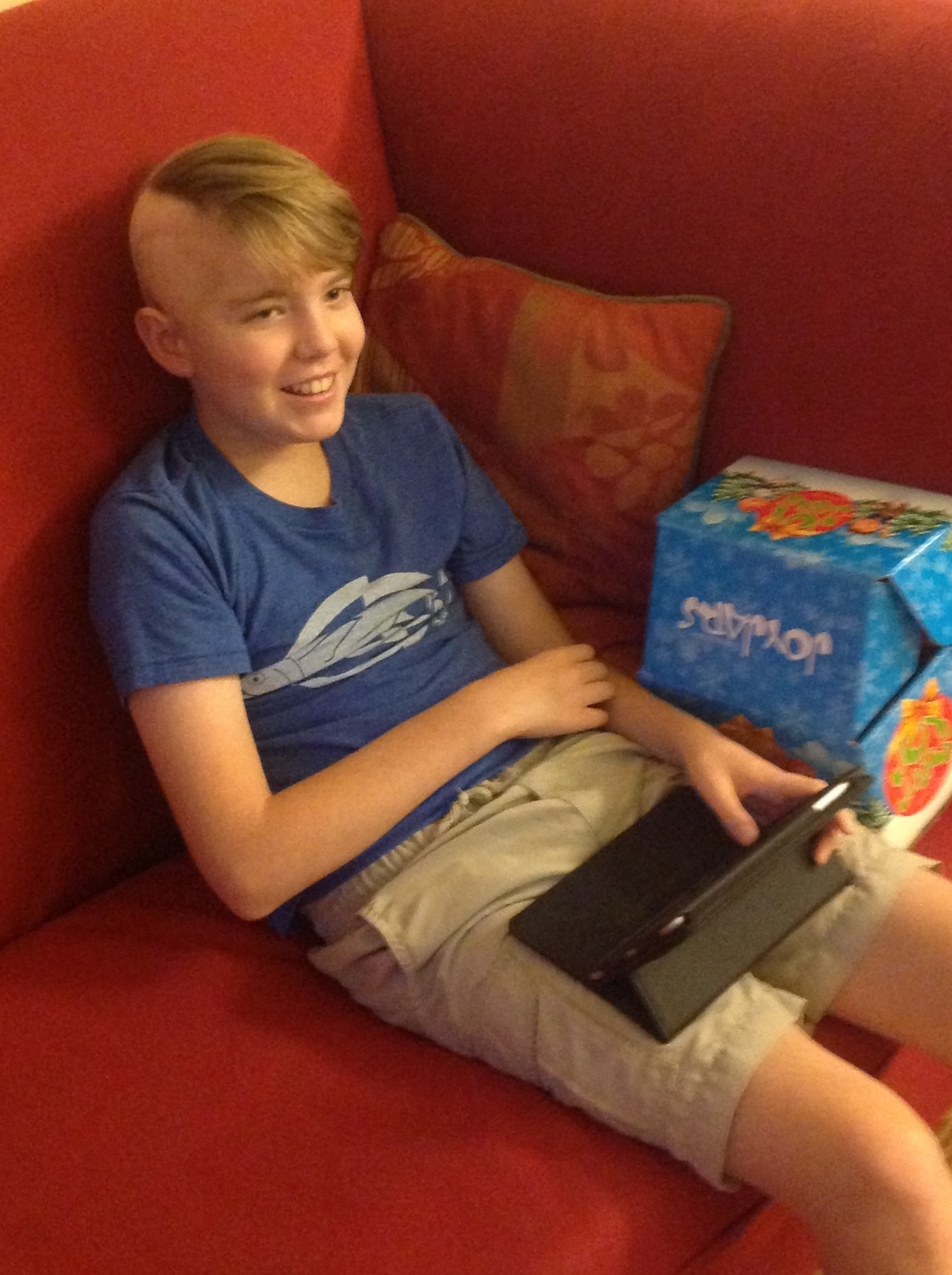 Alexander Daniel Shepherd turned 11yrs old on Feb. 23, 2013; for all we knew, he was "fine", now he is fighting for his life against an aggressive brain cancer (Anaplastic Astrocytoma, Grade 3).Alex is an amazing young man who loves to ride and race his bike with his Dad. He took 4th overall for his division in Oregon last year and that didn't include most out of town races due to schoolwork. He also loves to ski, surfed and recently started soccer. Alex excels in school, volunteers at the animal shelter, and wants to become a surgeon so he can help people.
Everything changed on April 15th, 2013, when Alex got up for school & suffered a grand mal seizure. It was a shock to us, both his dad & I (& grandma) are registered nurses. He never had any medical issues or indications of illness. In fact, two days before his seizure, he played in a soccer game & did amazing!
Alex was rushed to the ER, where a scan showed a large mass in his brain. He was then immediately flown, 5 hrs from home, up to Doernbecher's Children's Hospital in Portland, Oregon. In May, the neurosurgery team gave us some of the worst news a parent can ever hear, "It's cancer". The mass turned out to be a Grade 3 - Anaplastic Astrocytoma, an aggressive brain cancer.
Alex has had four deep brain surgeries, all within a month; the neurosurgeon equated the tumor to the "size of a banana". After the surgeries, Alex would cry in pain, begging for his old life back. he kept asking, "why me?!", "what did I do to deserve this?", "am I going to die?"...
The neuro-oncologist stated that the chance of survival at the five year mark is 25%, that statistic is based on total resection (100% removal of the tumor). However, we were not able to achieve that because the tumor was so diffuse (had deeply spread into surrounding tissues)...and that literally kicked him out of any survival statistics.
Alex then received daily radiation and was supposed to have daily chemotherapy (Temodar) along with it in Portland. Although he was able to receive a "life-time dose" of 33 treatments of radiation, he was only able to tolerate three weeks of chemotherapy. His blood work came back with dangerously low counts, he developed a fever and became fatigued. He has been extremely nauseated lately and fairly painful, having eye pain and headaches. He has also lost all his left-sided peripheral vision, decreasing his chances of playing sports anymore. He is trying to keep his spirits up, but it's obvious the medicine is beginning to catch up to him.
As his hair fell out in clumps, he was admitted to the hospital and I could see all the joy being zapped out of my little boys face, none of this is fair! After a stay in the hospital getting infusions and lab draws, Alex was finally able to go home. His counts had not recovered but we are to follow neutropenic precautions. He was excited to go home and take a "break" for a few weeks, we had been away from home for over two months! Alex's break still entailed twice weekly hospital visits for lab work & infusions. His blood counts would never recover, causing him to remain off the chemo he desperately needs.
On September 3, 2013, we drove back up to portland to receive a larger dose of a different chemo (Avastin) through his indwelling catheter, or Port. He also received his first post-treatment MRI of the brain and also a hearing scan. His hearing scan was normal and by the grace of God, his MRI showed "no evidence of disease progression". The oncologist did say that the first MRI usually is clear and there are likely cancer cells that can't be seen...however, as of today, we are overjoyed!! He unfortunately isn't tolerating the different chemo he received, he hasn't been out of bed since receiving it. I hope this will change because we have to go up to Portland every two weeks for it! He is supposed to be on two chemos right now but he proved his little body couldn't handle the first one. I pray he can stay on this different one, he needs it to save his life :(
If anything, we ask for prayers, I know Alex can beat this, he has too much going for him. I can't imagine this world losing such an incredible child....we lose to many, every day.
Family History:
I never thought life could be so difficult, when Alex was 2 yrs old, I gave birth to his beautiful baby brother named Andrew Paul. We were only given a week with Andrew before God took him home. The only time I got to hold him was when he was dying; he kicked and squeezed my hands, trying desperately to cry and breathe. I will always regret the way he was let go. Andrew was born with a very rare syndrome called Beare-Stevenson; one of the millions of growth factor hormones went awry at conception causing the syndrome. Not predictable and extremely rare, we just thought it was "really bad luck". A year after losing Andrew, we miscarried and then decided to stop trying for another child. We had Alex and he was perfect, smart, beautiful & kind, what more could we ask for?
However, God had a different plan for us, on May 10, 2011, we had Lily Rose (whom Alex named). She was unexpected and has been a blessing, half sweet princess and half crazy monster...she helped fill the void of losses before. A year later, I fulfilled a career change dream & finished another degree. In April of 2013, I told a friend that, "I was very blessed!". I had a beautiful healthy family, a great job as a labor & delivery RN, & for once I felt that things couldn't be better.
After those words, "it's cancer", life as we knew it was completely changed forever. Alex has endured more than any person should ever have to deal with. He should be worried about what's in his lunch, who he will play with at recess, who can come over today? Not, is the cancer coming back? Am I going to die?
What is so disheartening is that 1 out of 330 children will be diagnosed with cancer before the age of 20. Yet, childhood cancer research is incredibly underfunded and never gets the attention that other cancers receive, this I can't understand. In fact, recently, the current administration refused to illuminate the White House with gold lights in September for Childhood Cancer Awareness month. However, in October, the White House is lit up in pink for Breast Cancer Awareness month. I suppose it puts into perspective how our children rate.
Thank you for taking the time to read about our life.
God bless you and yours,
Aushna Shepherd (mom)