Colin's Autism's Got Talent England Trip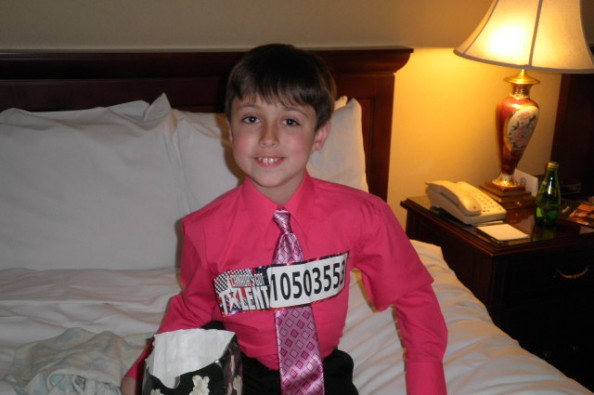 Raised: $2,310.00
Goal: $2,300.00
Created by
Gordon Brennan
735 Friends
Contact
Embed
Colin and I just received an amazing letter in the mail! After auditioning last year, Colin has been chosen with an invite to Perform as a singer in Anna Kennedy's Second Annual Autism's Got Talent Show at The Mermaid Theatre in London, Engl... more
Created by Gordon Brennan on February 13, 2013
Colin and I just received an amazing letter in the mail! After auditioning last year, Colin has been chosen with an invite to Perform as a singer in Anna Kennedy's Second Annual Autism's Got Talent Show at The Mermaid Theatre in London, England! Colin has enough money in his bank account from winning singing competitions and music festivals to cover our food and him wanting to visit the Harry Potter Warners Bros Studio Tour London event, BUT I do NOT have the cash to cover the Airfare to England. Anna Kennedy is graciously paying for our Hotel costs while we are there, but if we cannot come up with the funds for the Airfare we will not be able to go! I have already checked with Air Canada and the Round Trip Tickets Non-Stop 7.5 Hour Flight are (with taxes) $2389.00, so hopefully we can obtain enough donations from friends and family to purchase the tickets in time. The Show Performance is on May 11th, 2013 but Anna has asked us to show up on May 8th, 2013 to help us with the Jet-Lag five hour time difference! We are the only Canadians coming to this amazing event as this is a singular honour to Colin and his singing talents, not to mention performing with so many more highly talented people on the Spectrum! I will be selling stuff on ebay to come up with some extra money for this trip and trying to get some overtime at my work, but I know I won't have enough to cover it all by myself. If you can donate ANY amount we GREATLY APPRECIATE it! For anyone who donates any amount and they wish to receive a copy of Colin's current CD's free of any charges please let us know and give us your full mailing address so we can ship them off to you! As most of you might know, Colin has been priviledged to travel to other locations for his singing, including New York City, Nashville, Kentucky, and Vancouver, but THIS trip will be Huge as we have never been to Europe! What a Fantastic opportunity for Colin this could be! Again, we THANK each and everyone of you for ANY help you can give, God Bless to all!
Recent Donations (46)
$2,310 raised by 46 people in 14 months.
$10.00
FHR Radio
11 months ago
Dreams do become reality
$85.00
Ralph Davis
11 months ago
Saw you mentioned on the Positively Autistic facebook page - Best Wishes from Australia :-)
$100.00
Marilyn&Leslie Francis
11 months ago
GO SING FOR LESLIE AND ALL YOUR FRIENDS COLIN, HAVE A GREAT TIME.
$30.00
karen Ryan
12 months ago
Will be a fantastic experience, you are a superstar Colin. love from the Ryans england (Carly) xx
$50.00
Linda Briggs
12 months ago
Good luck, Colin, when you sing your song during the competition in England. We are big fans of yours. Best wishes to you and your family, from Ryan Comin's Grandma and Grandpa
$60.00
Tracy Roberts
12 months ago
Im the founder of positively autistic in the uk. We have worked with Colin and want to help give him this once in a life time oppotunity.
$20.00
Maria Teresa Canha
12 months ago
Very proud of you Colin!
$5.00
Dana Davies-Hales
12 months ago
All the best Colin and good luck.
$40.00
Dean Wendland
12 months ago
Good Luck Colin and Gordon!
$20.00
Julia Hays
12 months ago
So excited for you Colin, hope you have a great trip to my Country of birth and I know you shine your light so brightly.
1-10 of 46 donations
Next