A HEART 2 HEART DONATION FOR AJ!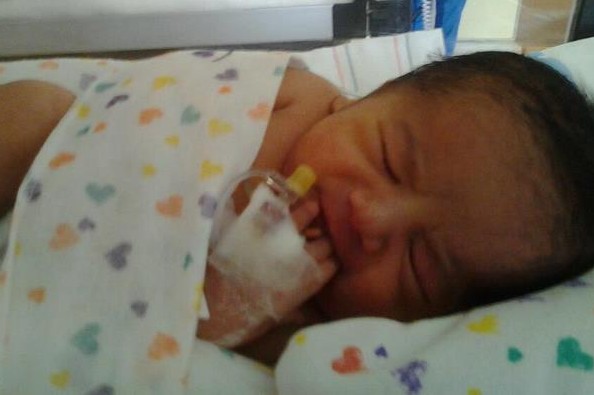 On November 15, 2012 a beautiful little Angel was born. His name is  Andrew Paul Mendoza Jr. and he is my nephew. This special little boy is not just any little boy, you see he was born with an under- developed heart also known as Congestinal Heart Disease (CHD).  I am creating this fund for him because we are not sure of what it will cost in the future for him to get the best of care and that means his mommy and daddy will have to miss alot of work in the years to come. I am asking from the kindness of your hearts that you will help me raise money for my nephew so that he will have a promising future! He is already loved by so many and is barely beginning his journey in life and me as his aunt wish I could give him the world, but unfortunatly I can't but I can give him love and you can also be apart of knowing you helped SAVE HIS LIFE! THANK YOU FOR YOUR SUPPORT & CONTRIBUTIONS! ON BEHALF OF MY BROTHER AND SISTER-IN-LAW WE ARE FOREVER GRATEFUL! MAY GOD BLESS YOU!!!!!  
What is GoFundMe?

Fundraising made easy >>
CONTACT
LINK
POSTER
REPORT
Celestie Fanol
21 months ago
I pray for baby AJ everyday. I know its not a lot but I hope this helps. Love you guys!!! :)
Janell Garcia
22 months ago
Andrew & Toni ~ May AJ continue to be a miracle in your lives and right before our very eyes..what a testament to the powers of prayer..💜 Janell
Jennifer Fernandez
22 months ago
May God keep you and your family strong and watch and love lil AJ. Always in my prayers.
What a beautiful post. So beautifully said. Brought tears to our eyes. No way I could pass this up. Best wishes for you all. Especially the little cutie pie fighter himself. Pls keep us posted.
Eileen Lopez
22 months ago
So happy to b able to help I'm sorry its so little but that what I cqn afford rite now I will definitely b donating again much love and prayers for baby Aj and family
Liseth Carrasco
22 months ago