Help send "The Dude" to rollercon!!!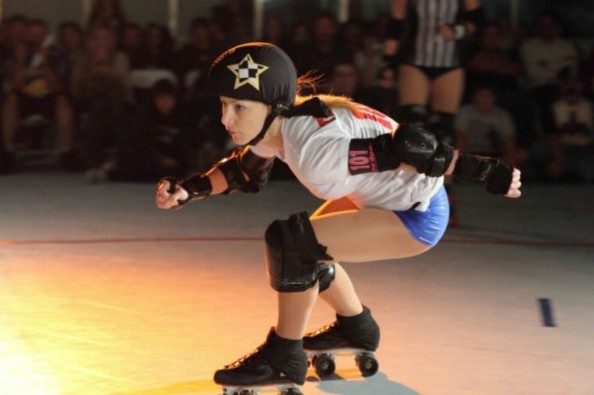 Hello, my name is Amanda aka THE DUDE. I have been trying to go to rollercon for the past 4 years and have yet to make it. I am now 25 years old and I'm ready to make this happen but now I need some financial help from you guys. I have been roller skating since I was super little, started out artistic figure roller skating, jam skating, and then roller derby at age 18. I havent gone the past 3 years due to starting my family. I have a 2 year old daughter and she is now at the age where I can do rollercon which has been on hold since I was pregnant in 2010. My mom is willing to come to Vegas with me and watch my daughter while I skate at rollercon. I'm looking to get the the MVP skate pass on black friday sale for $119.00 My mom's spectator pass is $79.00 to a total of $189.00 This is only for the black Friday sale so I have 12 days to raise this money. I work 4 nights a week and take care of my daugther every other second I'm not at work. So coming up with this money for myself to skate is very hard, especially with the amount of time and the holidays coming up. Rollercon is a huge world-wide roller derby convention once a year in Vegas. This year it is July 31st-August 4th 2013 at the Riviera Hotel. Please help donate any possible money you may have every dollar counts. I realllllly want to go. I have put so much hardwork, passion, blood, sweat, and tears into this sport. Help me get to rollercon! :)

THANK YOU!!!! :)
What is GoFundMe?

Fundraising made easy >>
CONTACT
LINK
POSTER
REPORT
Orange Roughy
22 months ago
I went to Roller Con, last year, on a campership. If it wasn't for Black Eyed Tease and my BFF Felonious Feline, and some other derby friends...I wouldn't have made it to Vegas. I don't have much, but wanted to pay it forward. Make sure you come by my 2013 RC hotel room for grilled cheese made with the clothing iron. That's how I roll at Roller Con.
Woo hoo rollercon watch out because The Dude will be in attendance.
hadley mangham
22 months ago
hadley loves her auntie!
Dawn Galdes
22 months ago
Go get em'! It's great to see skating is still your passion, derby style now! Whooahhh. Wish you the best, do us proud ~ no matter what the outcome , your a winner for simply putting yourself out there and competing.
Mandy Chenery
22 months ago
always make your dreams come true because remember you only have one life to live so why not live it doing the things you love! glad I can help a little:)
Day TripHer
22 months ago
Joey Ottens
22 months ago
Great Idea! keep up the good work. Can't wait to go!