The Siko Home & Pickering Farm Clean Up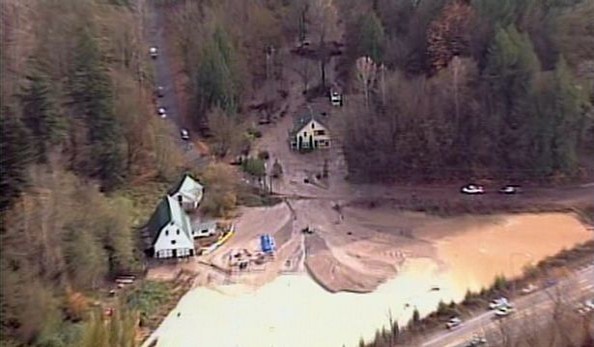 In Beaver Dam Breach News (from Suzanne): I'm taking a, hopefully, short leave-of-absence from work to take care of necessary paperwork and to come up with some resolution for our housing. I was back to work for a short time, but there was a lot going on, and it was difficult for me to manage it all. We are now in an ongoing process with the stream where we monitor and dig out as necessary to protect our house. The county is doing the same for the road and their culvert. In other local beaver dam breaks, this process goes on for 3-5 years until the land heals (vegetation grows back, loose material processes through the ravine). It's quite a science lesson on the power of water! With much gratitude from us, Stephanie and Greg continue to put up with our motley crew in their home! :) Bob is back to work, but taking time off, as necessary, to manage groundwork, etc. I expect our house will continue to have a yellow notice throughout our rainy season, which warns of the stream danger, and means it is not safe for us to have our young family living there. I am thankful for ALL the ways our community continues to pour out its love on us. Never in my life have I experienced so many tears of joy - every day! - for the provision and goodness that is being poured out on us from others. "It is in the shelter of each other that the people live." -Irish Proverb. Heartfelt thanks. :) ♥
The Siko family's home was hit yesterday by acres of water that suddenly came crashing down the hill from a broken beaver dam. The damage is still being assessed, but since the family did not have flood insurance, we are setting up a site for donations. Many of you have asked how you can help, and this is one way. 100% will go to the cleaning and rebuilding of their home and yard, and the smallest of donations is much appreciated.

Bob estimated today that it will cost approximately $45,000 to fix the house, haul out materials, and fix the grounds. Thanks to all who have already helped in so many ways!

What is GoFundMe?

Fundraising made easy >>
CONTACT
LINK
POSTER
REPORT
Diane Guthrie
27 months ago
Diane Solomon
27 months ago
Dear Suzanne and Bob, we just heard about the damage to your home. What a terrible thing... your home is your refuge! Wish we could help more, but want you to know we are thinking of you and hope that you will soon have things fixed. Much love and prayer, Auntie Diane and Uncle Peter
Cynthia Doonan
27 months ago
The Rezoski Family
28 months ago
Donation from Nicole Ji & Windermere Woodinville.
Travis & Cris Remick and Family
28 months ago (Offline Donation)
Roney & Honchen Families
28 months ago (Offline Donation)
Gerrit and Trudy Kuipers
28 months ago (Offline Donation)
Bruce and Rachelle McCallum
28 months ago (Offline Donation)